Pez Japanese Grill: the most festive tuna, the most visual sushi
A logbook by Sensei Hiroshi Umi.
There are many Japanese restaurants overseas. Thousands of them. In Paris, London, Oakland, Cape Town, Buenos Aires, Logroño (bravo, Kiro Sushi – we will be dedicating a future post to this zen miracle by Félix Jiménez)… It would be wonderful to have a counter hosted on some website, telling us where and when the next such culinary establishment is opening, and to keep a global score. Most of the Japanese eateries I have visited in numerous cities of this hectic world try to replicate the minimalism, purity and concision of the edomae era, when my country's capital was a great port at the height of the Bunsei golden age, in the early 19th century (from 1818 to 1830).
Back then, raw seafood and fish, combined with fermented and matured ingredients, were the very essence of the Tokyo diet. Food archaeologists are now unearthing that period as the benchmark for doing things in the true ancestral manner. But we should not be overly fundamentalist. Every chef or sushiman is free to offer their particular idiosyncrasy and identity behind the doors of their own establishment, of course. And as the great Peruvian chef Virgilio Martínez argues, "every time that anyone cooks someone else's recipes, they reinterpret them, they are creating a new reality", far from being a sacrilege or appropriation, I would add. And that is very much the approach of Carlos Febles, now in Pez Japanese Grill.
Carlos Febles, with the produce flying the flag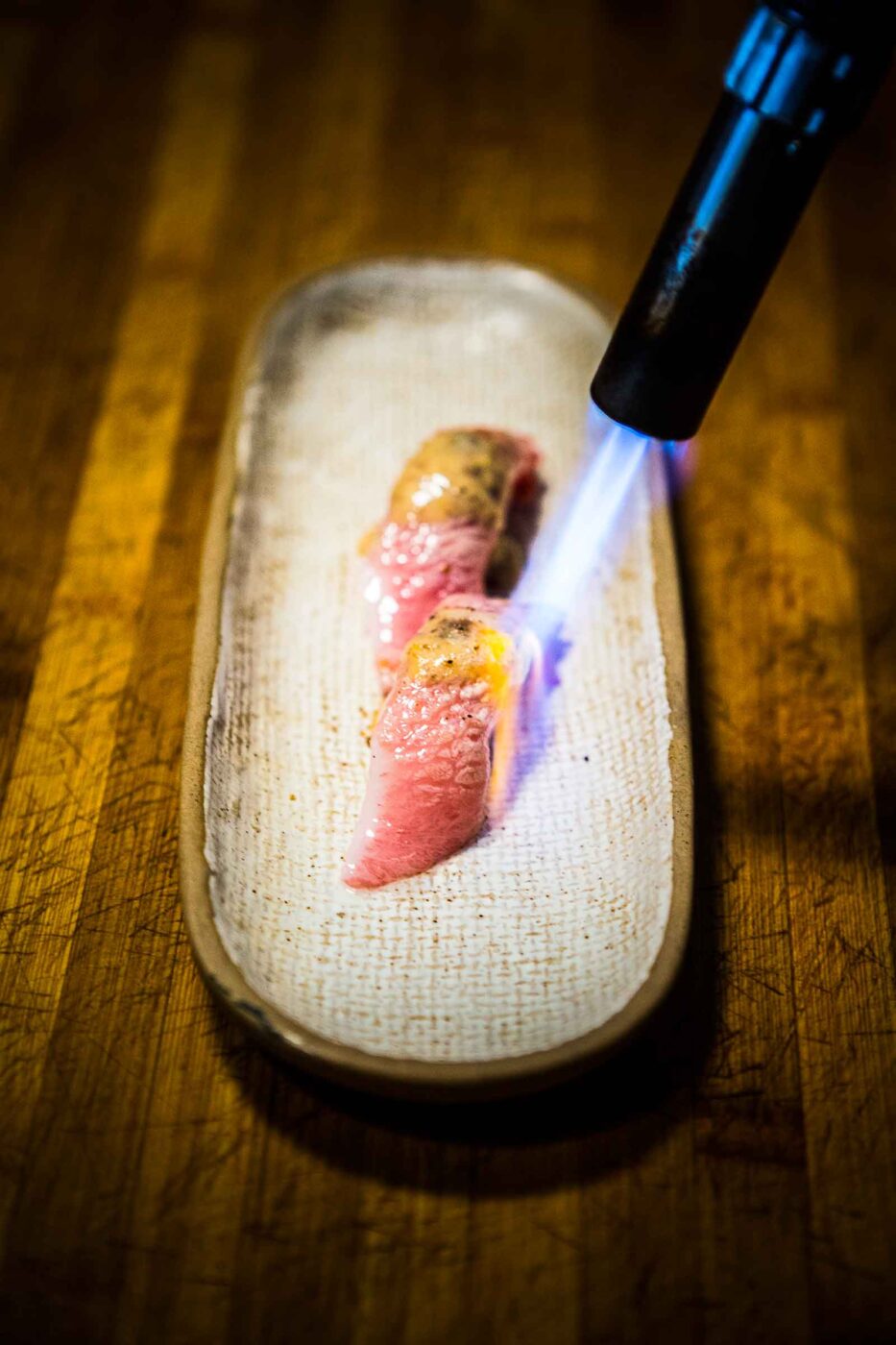 Born in Caracas to Galician parents (from Lugo and Pontevedra), he recently opened a modest grill. With Japan on the radar. With the produce flying the flag. And in Majadahonda, a town out towards the Madrid uplands, with a spectacular per capita income. A huge challenge. A most demanding and particular clientele. And the fact is that Febles has picked up the gauntlet with accomplishment, thanks to succulent, novel, sparkling and festive creations, in which Fuentes Bluefin Tuna is perfectly at home, and judiciously reinvented… and that much sought-after calm.
"If I go to a Japanese restaurant and see good, fresh tuna I can safely assume that everything else will make the grade, because tuna is the fundamental basis, as well as being the most expensive ingredient. Here I get it delivered practically alive, with the texture intact and at the perfect temperature, thanks to Cominport, who I have been working with for years. Look, these are slow rolls with prawn, avocado and are covered with marbled Fuentes bluefin tuna belly, to which I add truffle mayonnaise and bean sprouts," he shows us.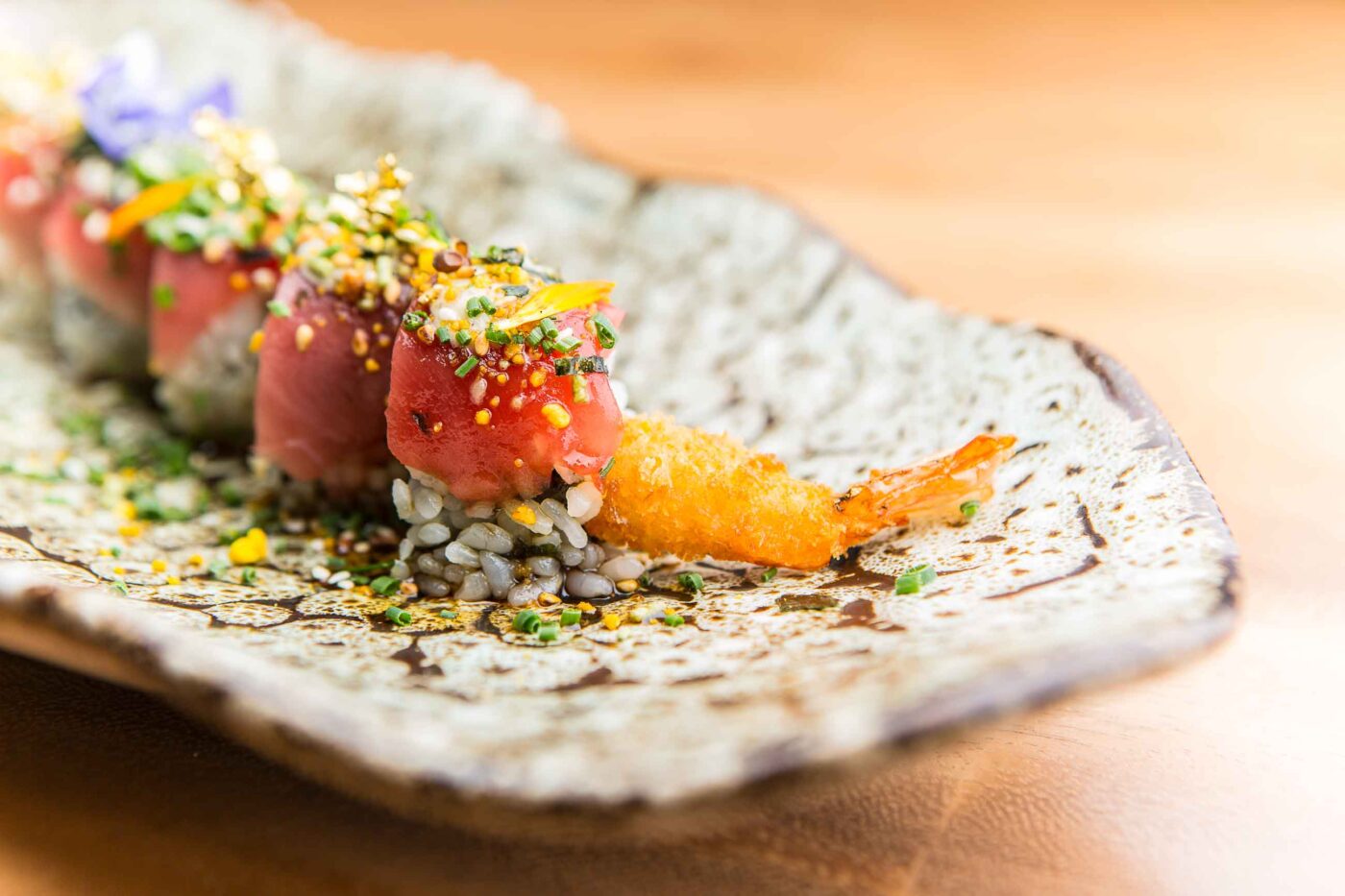 In the mouth, a well-orchestrated festival, a polyphony that reveals finesse with the knife and skill with the cooking and vinegar applied to the Japanese short-grain rice at its heart. In appearance, a highly festive, photogenic sushi, like fireworks on a summer's night, as kaleidoscopic as they are joyful. "I'm looking for that point of haute cuisine, with a presentation that needs to make a visual impact, like a jeweller showing off his wares to a client in a display case," explains the sushiman, who gets through some 15 kilos of the most refined tuna every week.
For rolls, nigiris, tiraditos (usuzukuri) and sashimi, Carlos in particular uses tarantelo, the part of the tuna belly towards the tail, which has more flavour and where nothing goes to waste. "You can appreciate the quality of the tuna there, and how it was fed," he adds. "When dealing with such fine produce, ideally you hardly want to touch it. So as not to damage it".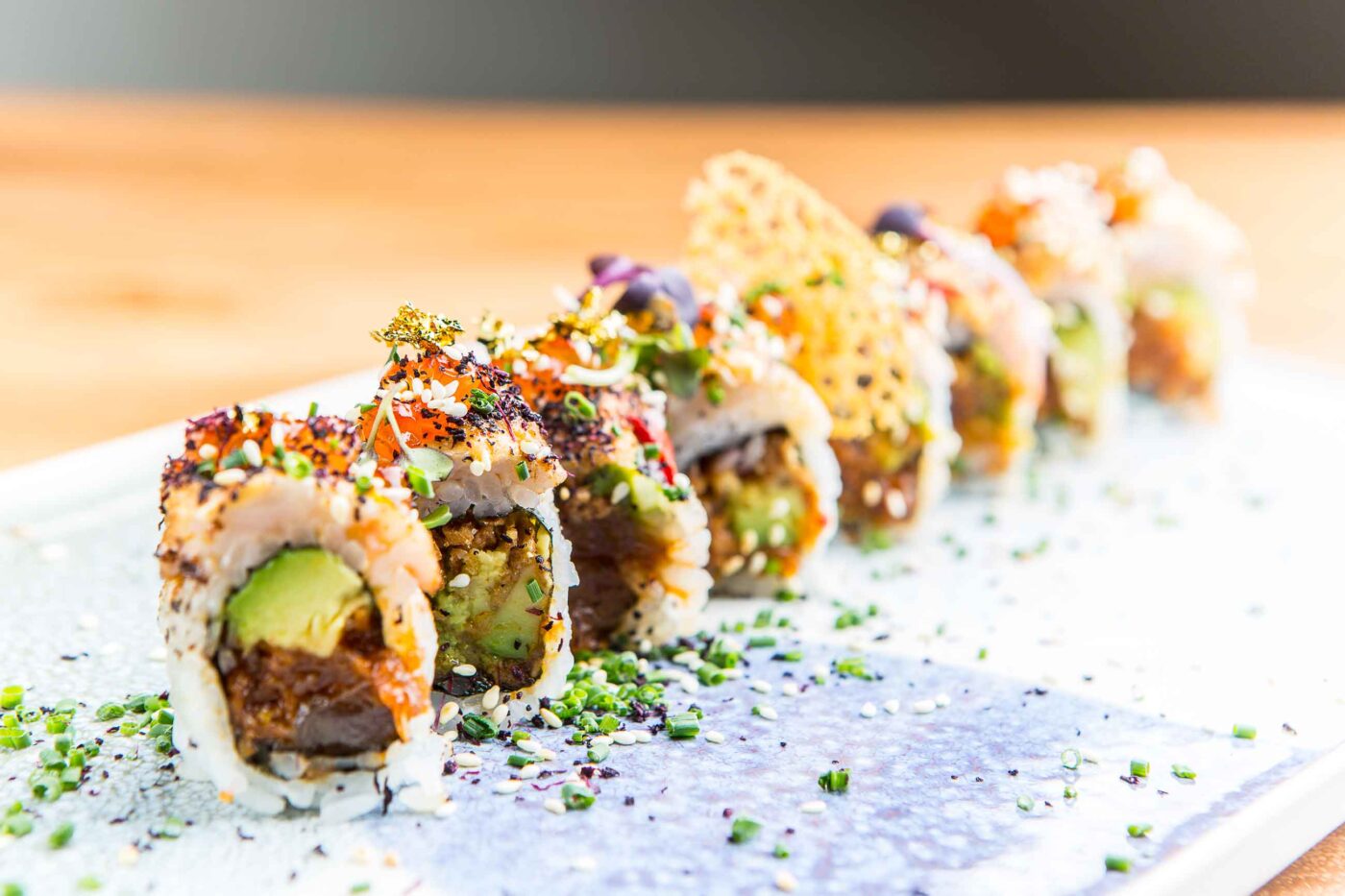 A sushiman's odyssey around the world
Carlos began making sushi in his homeland, Venezuela, when he was just a youngster. With passion, and without filters. He then spent time in the Dutch Antilles, with their pink sand, and folk from the Netherlands cycling in swimwear. He came to Spain because of his family, and signed up at Kotobuki and the Kabuki Group. Having hopped across to the Balearic Islands, he blended sushi with Mediterranean cuisine, taking charge of the Japanese section at the Pachá Group. He wound up at the Hermitage in Andorra, then packed his bags and headed for London…
Many journeys, a thousand experiences. His mentor, the one who opened up new horizons for him in his approach to knives and ways of cutting, goes by the name of Yusuke Yozie, a countryman of mine who now splits his time between Ibiza and Formentera, and in the past even worked as a neighbourhood fishmonger in New York.
Last stop: Pez Japanese Grill.
Finally, two years ago Carlos and his partner hung up the sign bearing the sinuous logo of Pez Japanese in the window of their own dazzling and longed-for establishment… And two days later the pandemic broke out. Nonetheless, despite such misfortune they always believed that fortune would continue to favour them, so long as they put in a little effort.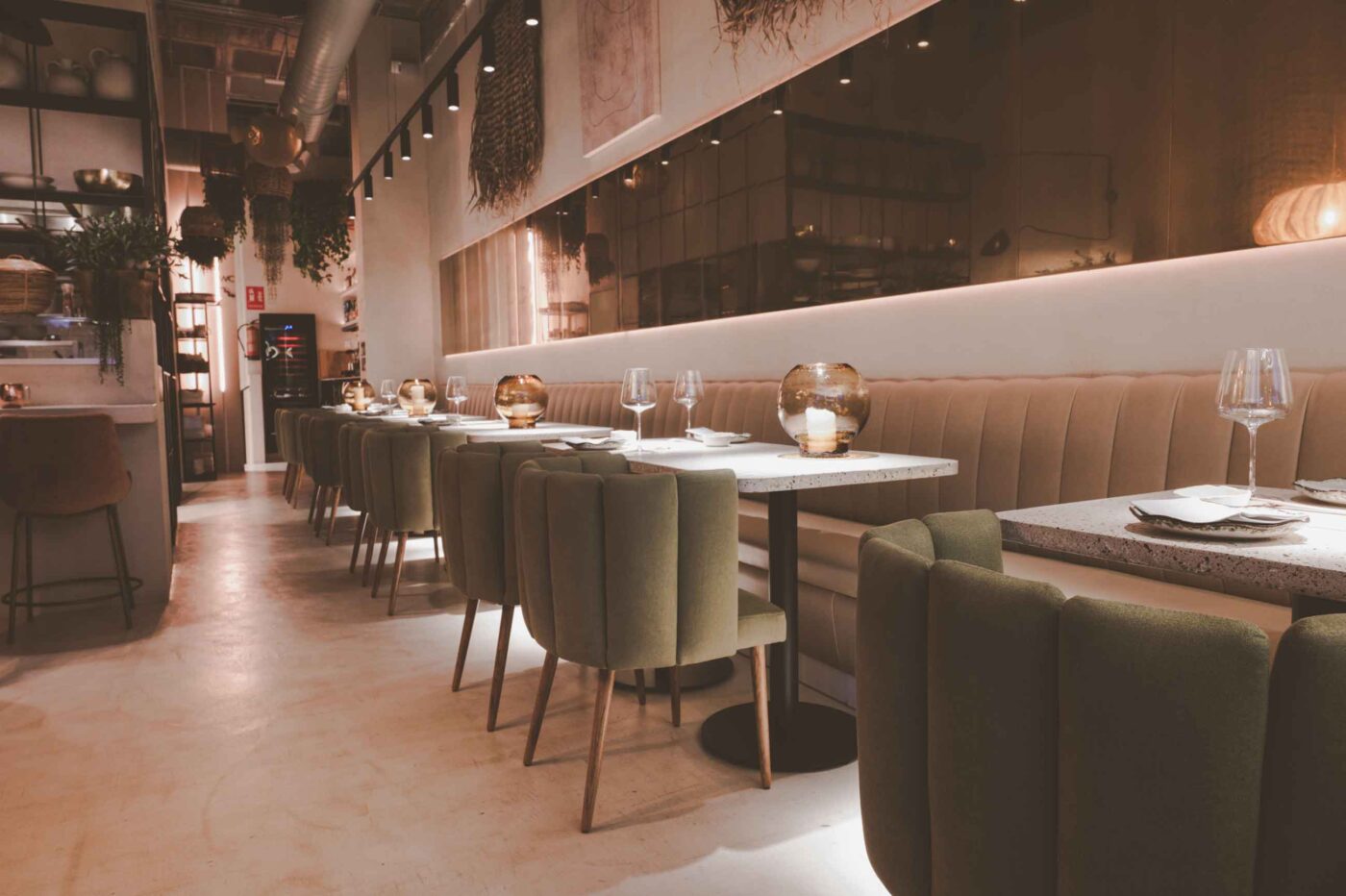 "Fish has always brought us good luck, from my time in the Balearic Islands, and the continuous lines of our logo were drawn by my partner, who says they are also a symbol of luck and inspiration in India," he asserts, with a degree of mysticism. Carlos has no tasting menu, and finds that à la carte works perfectly for him, with prices that are more than reasonable for the district, and his produce sells well. "It's a real London concept, good produce without going crazy with the prices," he explains.
Today his creations of spicy tuna, with black truffle, chive and truffle mayonnaise, reflect a successful fusion, a globetrotting path which has found a new port of call. Like this magnificent lobster & dynamite roll, and above all the caviar and tuna belly nigiris with a light touch of the blowtorch, which are outstanding, and impossible to pinpoint. Because talent and ideas always find a way through, irrespective of maps, boundaries, languages and passports.