What is a cookie?
Cookies are identifiers that we send to your computer's hard drive through your Web browser so that our systems can recognize your browser and offer you certain services.
This page uses different types of cookies. Some cookies are placed by third party services that appear on our pages.
The following is a list of the cookies used by this site.
Cookies used
Required cookies
The necessary cookies help to make a website usable by activating basic functions such as navigation on the site and access to secure areas of the site. The website cannot function properly without these cookies.
Preference Cookies
Preference cookies allow the website to remember information that changes the way the website behaves or the way it looks, such as your preferred language or the region in which you are located.
Statistical Cookies
Statistical cookies help website owners understand how visitors interact with websites by gathering and providing information anonymously.
To disable Google Analytics cookies, you can install the Google Analytics Opt-out Browser Add-on that will allow you to not send out statistical information. It is available at the following link: https://tools.google.com/dlpage/gaoptout?hl=en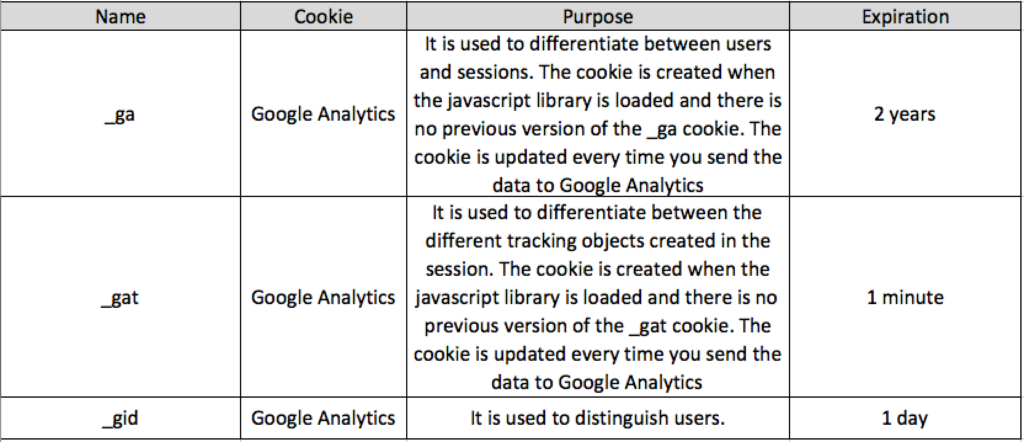 How to disable Cookies in all major browsers:
It is possible to stop accepting browser Cookies, or to stop accepting Cookies from a particular Service.
All modern browsers allow you to change cookie settings. These settings are usually found in the 'options' or 'Preferences' of your browser menu. You can also configure your browser or email manager.
The following information provides guidance to the User on the steps to access the cookie configuration menu and, where appropriate, private browsing in each of the main browsers:
Internet Explorer: Tools -> Internet Options -> Privacy -> Settings. For more information, you can consult the Microsoft support or the browser Help.
Firefox: Tools -> Options -> Privacy -> History -> Custom Settings. For more information, you can consult Mozilla support or browser Help.
Chrome: Settings -> Show advanced options -> Privacy -> Content settings. For more information, you can consult Google support or browser Help.
Safari: Preferences -> Security. For more information, see Apple Support or Browser Help.
What happens if I disable Cookies?
Some features of the Services will be disabled, such as staying logged in, keeping purchases in the "shopping cart,"…