Joaquín Felipe: a rocker for bluefin tuna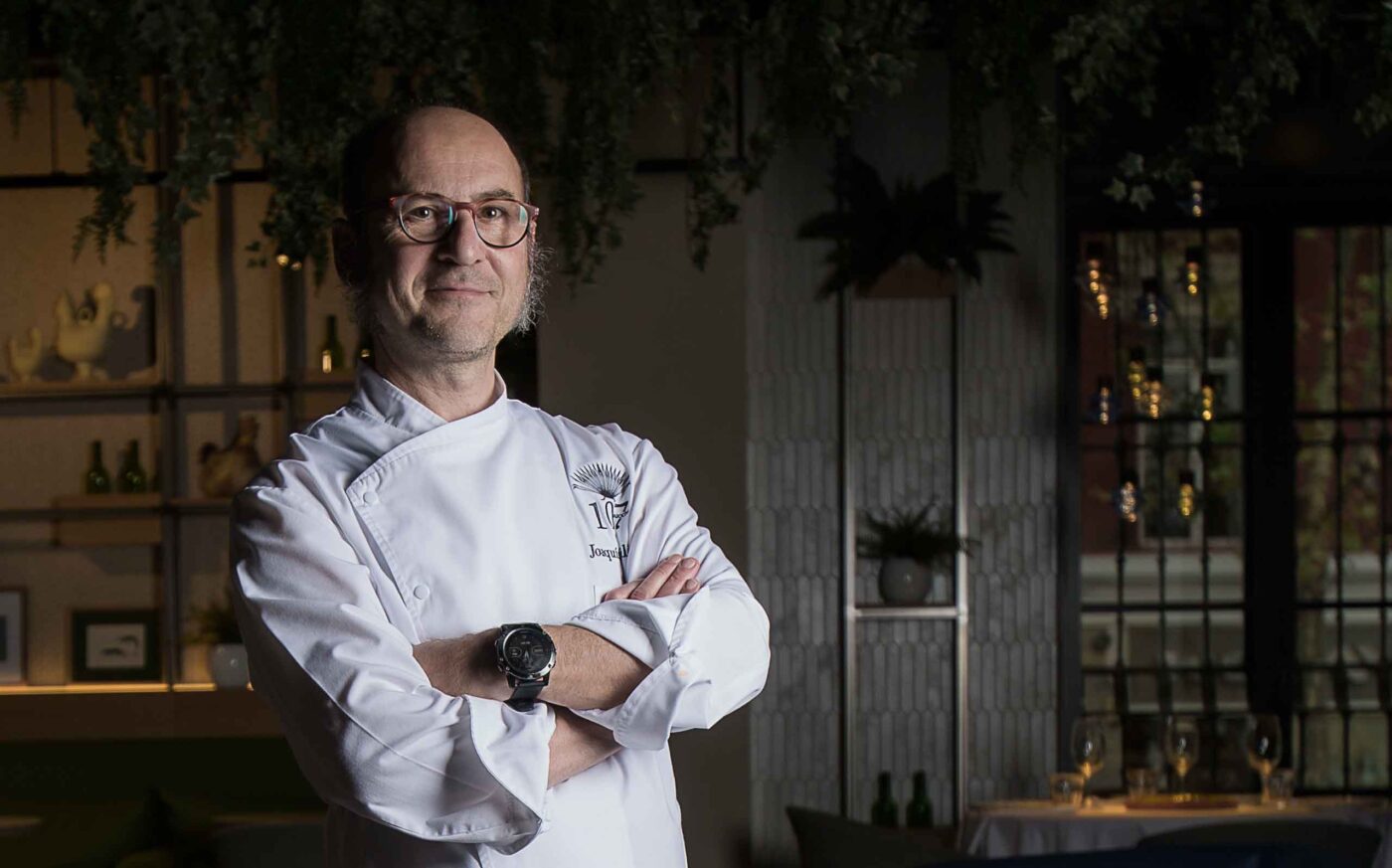 A logbook by Sensei Hiroshi Umi.
He has never given up his roguish air of a nineteenth-century bullfighter, parading before the public true to cast-iron principles of loyalty, bonhomie and professionalism regarding his craft and his people. On one of my trips to Madrid, years ago now, I briefly met Joaquín Felipe working at El Chaflán. He already showed signs of his versatility, a subtle and accomplished way with his culinary trade, as one of the star pupils of the recently deceased Luis Irízar. I then followed his career around hotels such as the Vila Real and the Urban, and even versatile venues with a legendary touch such as the Florida Retiro (the old Florida Park, where I saw one Lola Flores in full flow).
Today I alight from the AVE train, having arrived from my beloved Levante, to find out what form he is in at this Atocha 107 restaurant. The eatery is to be found at the street number that gives it its name, and forms part of the culinary offering of a hotel of the Hilton chain, in what we might call a more boutique version. Here Felipe has found his oasis, his sanctuary, a deep sea calm as a millpond. Which luckily enough proves the perfect place to serve up the very finest Fuentes Bluefin Tuna.
A love of bluefin tuna
Because the love story between the titan of the Atlantic and this chef with his buccaneering sideburns, is no novelty or passing fad. "I have butchered tunas alongside much more professional people who have taught me a lot, really taking care with the cuts… My earliest memories of tuna take me back to El Chaflán, together with my cousin Juan Pablo back in '97. Incredible though it may sound, and it seems like almost yesterday to us, at that time there was no bluefin tuna delivered to the wholesale market at Mercamadrid. We got ours from a fisherman in Barbate. That was where I started out. We also drove down there non-stop one night after our last covers left to see the almadraba pound net fishing, and although I have a pretty rough time of it on boats, that really made an impression on me," recounts this Madrid chef born in '66, raised inland by a mother who cooked at a hotel on the Gran Vía, 350 km from the coast.
"With the sea in general, and bluefin tuna in particular, I have a real love story. I've been unfortunate, because I always wanted to end up in a port city and work directly with fish. The right position never came up, the right project to work on what I enjoy. Wherever I have been, I always handled the fish side of things. And Fuentes Bluefin Tuna look after the animals, pamper them, raise and conserve them in the most natural and sustainable manner possible. They place importance on nutrition, and know exactly what point they are at so as to fish them out and provide great tuna all year round," he adds.
Experimenting with "offal"
Possessed of inexhaustible calm and naturalness, Felipe orchestrates a distinctive culinary approach, apparently straightforward, while revealing a thorough knowledge of tempos, cadences, methods, demanding ingredients. People still remember his outstanding masterclass on bluefin tuna offal at Madrid Fusión 2004, which he was later to repeat at the Hattori cookery schools in the capital of my own homeland. "I have been using tuna heart for a long, long time. I now prepare it as a confit cooked at low temperature in olive oil, and then slice it almost like candy. You can sauté or grill it. We chop it up as tartar, and serve it with a savoury butter, accompanied by a brioche bread recipe with a tuna flavour. I place the warm heart, a thin slice of cucumber, and anchovy for contrast with the saltiness, and the katsuobushi (flakes of dried bonito) to highlight the visual aspect," he explains.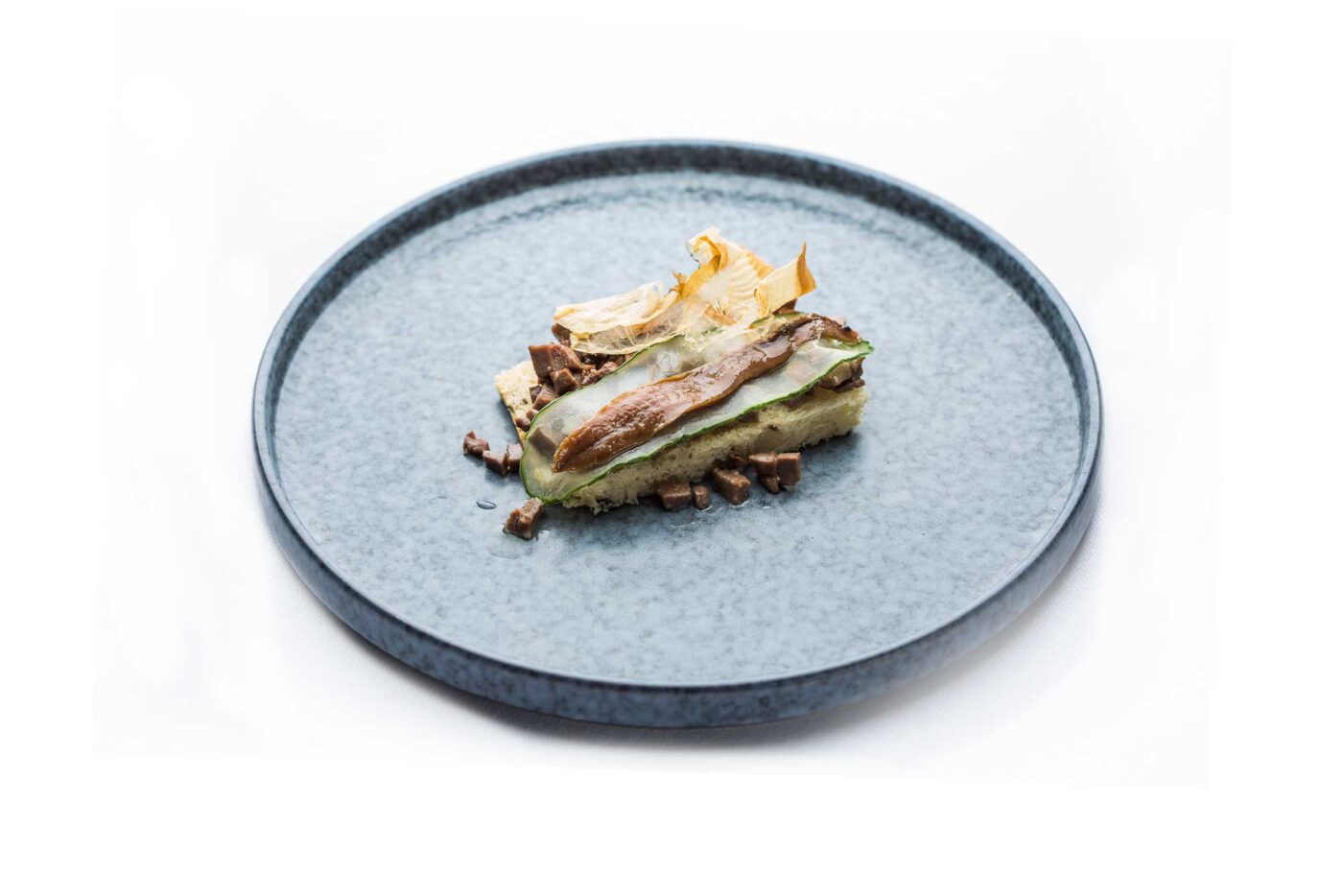 The salad which follows this dish reveals Felipe's mastery and love of pickles. Cherry tomatoes, plums, chilli peppers, cauliflower, aubergine and beetroot, provide a dazzling escort for a chargrilled cut of noten, vacuum-treated with the same dressing as the pickles, a) the fierceness of the tuna is softened b) the flavour is heightened, embellished with basil, mint and parsley oil. Sublime seasonality in a plant-based apotheosis embracing the sea.
Original culinary concepts Atocha 107
How about sautéed green apples and tuna inflamed by Prometheus? Propitious audacity making use of tuna belly. "This time I focus on the dark part, so to speak, without the grain. It is macerated a little, sort of semi-salted, in salt and sugar, for 24 to 48 hours depending on how thick the belly cut is. We clean it, cut it finely and briefly temper it with a blowtorch," he explains.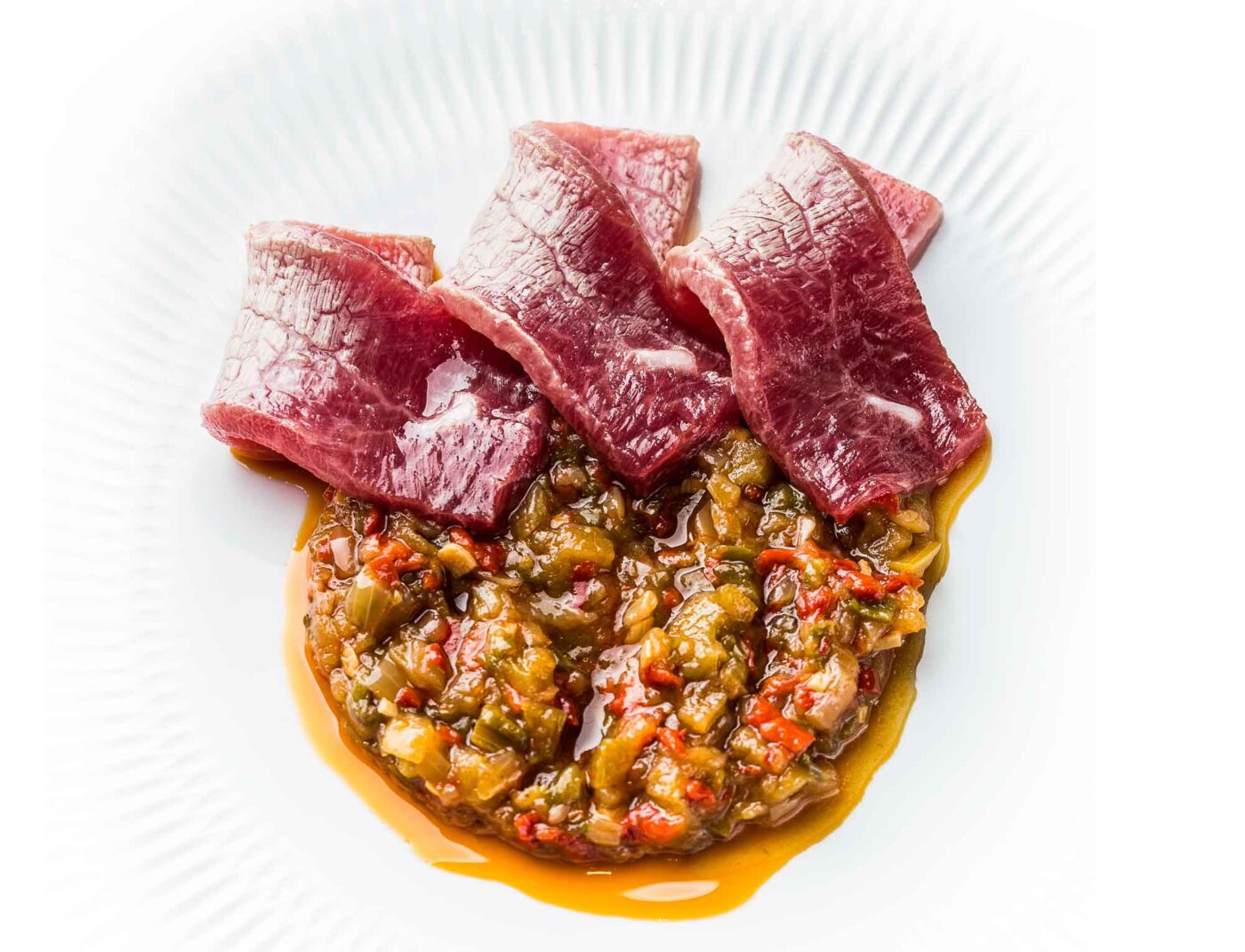 An amazing combination. The tempered, grilled loin steak is served with a traditional onion preparation, with saffron and Manzanilla sherry. A gentle sprinkle of truffle shavings surrounds the ensemble. And to round things off, a fattier belly cut. "I roast it, marinade it in mojo rojo, which really gives it aroma. And I serve it with Canaries-style potatoes. Meanwhile, I really like the tarantelo, a cut between the loin and the belly, in the light meat section, because it is a very balanced part, with no heavy fat. I find the noten a highly versatile cut, wonderful for chargrilling, marinading, roasting… It's a muscle that doesn't move much, and is full of flavour. In all cases using premium tuna, from Fuentes", we are told by the chef, whose son Joaquín Jr. is following in his professional footsteps.
On the menu at Atocha 107, for both those who just happen to be passing, and loyal parishioners who follow Felipe wherever he goes, you will also find seafood cannelloni with stewed bluefin tuna and fine bechamel, the sign of a pure-blooded lover of brine and rock & roll, who dreams of cutting up tuna bellies of unbearable redness.