Cabaña Buenavista: an inland sea for bluefin tuna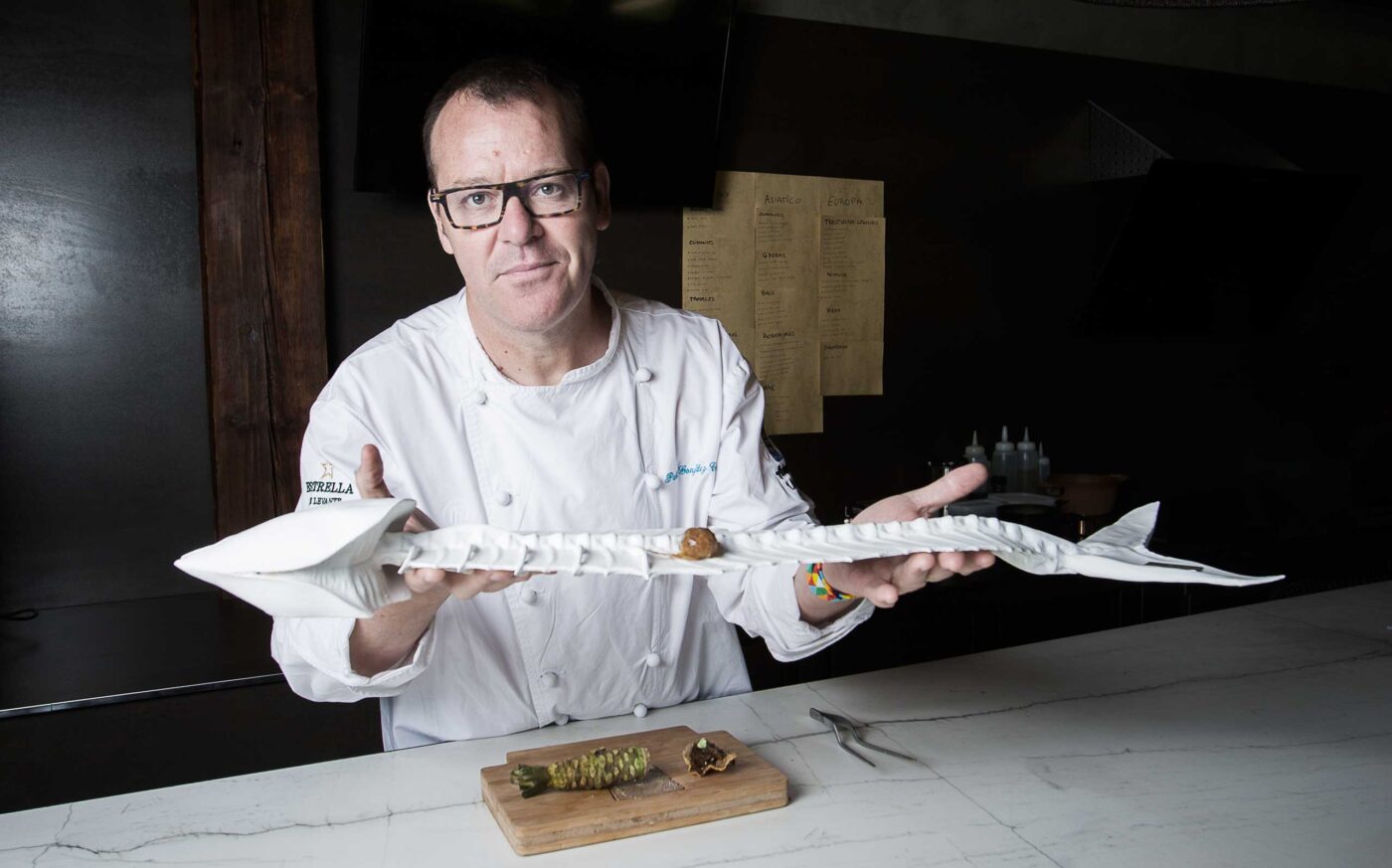 A logbook by Sensei Hiroshi Umi.
As if Robinson Crusoe had deliberately confined himself to his island. Like a shipwrecked sailor aiming to sink in an archipelago of talent and exploration far from everything, but close to his patrons. From behind his tortoiseshell glasses, he exudes a degree of introspection, part Scandinavian, part Japanese, all fed through a Mediterranean blender of loquacity. This is the world of Pablo González-Conejero, chef of what might be Spain's most hidden away, undiscovered and surprising restaurant to boast two Michelin stars.
He orchestrates his presentations at Cabaña Buenavista in El Palmar or Lugar de Don Juan, just a stone's throw from the city of Murcia. An oasis of peace to celebrate any event you might wish. A versatile and different space, full of light, art and experimentation, where one could get married, have a romantic dinner, gaze into cloudless skies, hold a business lunch or close any deal. All presided over by a liturgy as precise as a Swiss tuning fork, following a procession of seasons, terraces and delights that justify the accolades earned by a chef at the top of his game. He has spared no effort in finding his (tricky) place on the culinary Mount Olympus.
Pablo González-Conejero before Cabaña Buenavista
I still remember my first meeting with Pablo, and how he told me that he was raised amid ink and printing presses, thanks to his father's journalistic profession. But rather than tapping away at a keyboard and listening in on rumours and debating chambers, he unexpectedly picked up a frying pan, with no memory to draw on but his own imagination. He painted a painstaking picture of his youth in the kitchen, his days in Majorca (Flanigan), his time in Madrid (Cuatro Estaciones), a doctorate in San Sebastian (at the temple of Arzak), and his return like a prodigal son to the Murcia of his birth.
After the Gran Taberna and NH, he cast anchor once and for all to set up his stall at the Finca Buena Vista in 2004, now transformed into Cabaña Buenavista. Because after countless miles and a number of years, he is now fulfilling his heart's desire (an expression I adore). He now looks slimmer, more fibrous and gymnastic, with his gaze if anything even more sharply focused on his goals. It has been a constant mantra of his that he neither wishes for, nor pursues, media acclaim as it would distract him from his domestic duties here in his cabin, his refuge and shelter.
The first gastronomic laboratory in the region of Murcia
And ever since he began to embrace its excellence, tuna has always been in his dreams and his thoughts. And so, like some inevitable symbiosis, the paths of Fuentes Bluefin Tuna and Pablo González crossed some time ago in the first gastronomic laboratory in the region of Murcia, that the tuna brand and chef have seen fit to share in pursuit of prized R&D.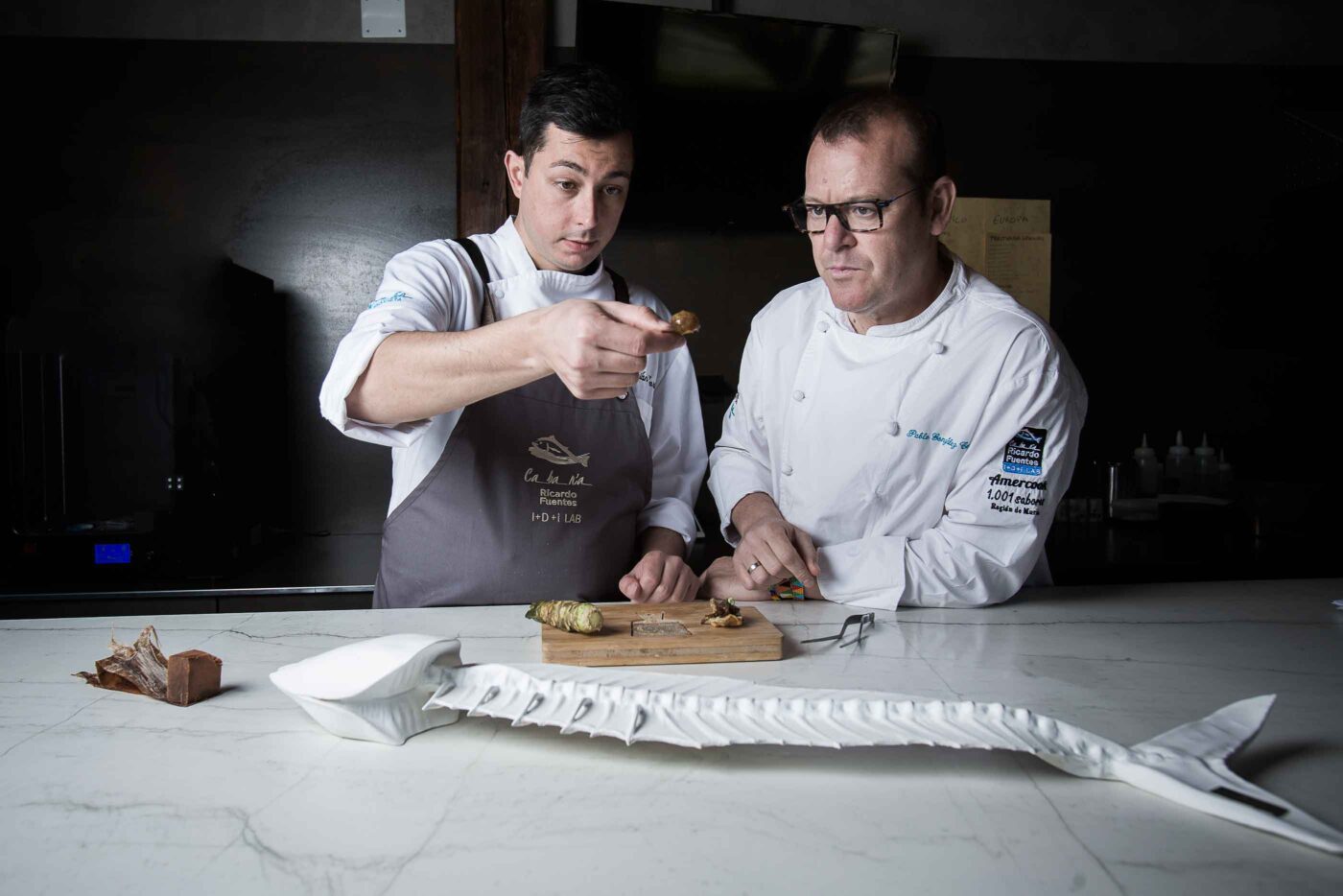 The lab is tucked away in the depths of this beautiful and bucolic establishment, offering a memorable gastro experience. "It all came about because we found the right group, with particular support from Adrián Costa in Cartagena, the enthusiasm and the people that all came together to make it a success. This is a two-pronged endeavour with Fuentes, who wanted to make inroads in the region, make a name for themselves. We have had the premises since November 2019, and are free to create, with no restrictions. It has been hugely beneficial in our evolution, not only with tuna and salting fish, but also with our produce here, such as a dish of suckling kid. We are now working with the 3D machine, since as you know the props and staging are very important. Not just what, but how," he explains, paying tribute to the historic greats of open-air cooking in four steps, reinterpreting poetry as appetisers, and presenting his new menu through ancient civilisations. A character and a genius. And a tuna-lover, of course.
"I have expanded my knowledge of tuna since 2019. Because of the Laboratory I visit the factory, the catch, the pools, I dive much deeper into the processes… There's a world of difference between what you imagine and actually seeing it. You realise the meticulousness, the levels of safety, everything that goes into a cut of tuna. I think that the more you eat the produce, the more you understand and the more demanding you become about the levels of fat or the depth of flavour. We are working on a recipe that is a reinterpretation or a nod to the marriage of salted and pickled anchovies, but with tuna belly and dried loin. Bluefin tuna is ever present, and has for many years been one of my signature ingredients, even before I met the Fuentes family".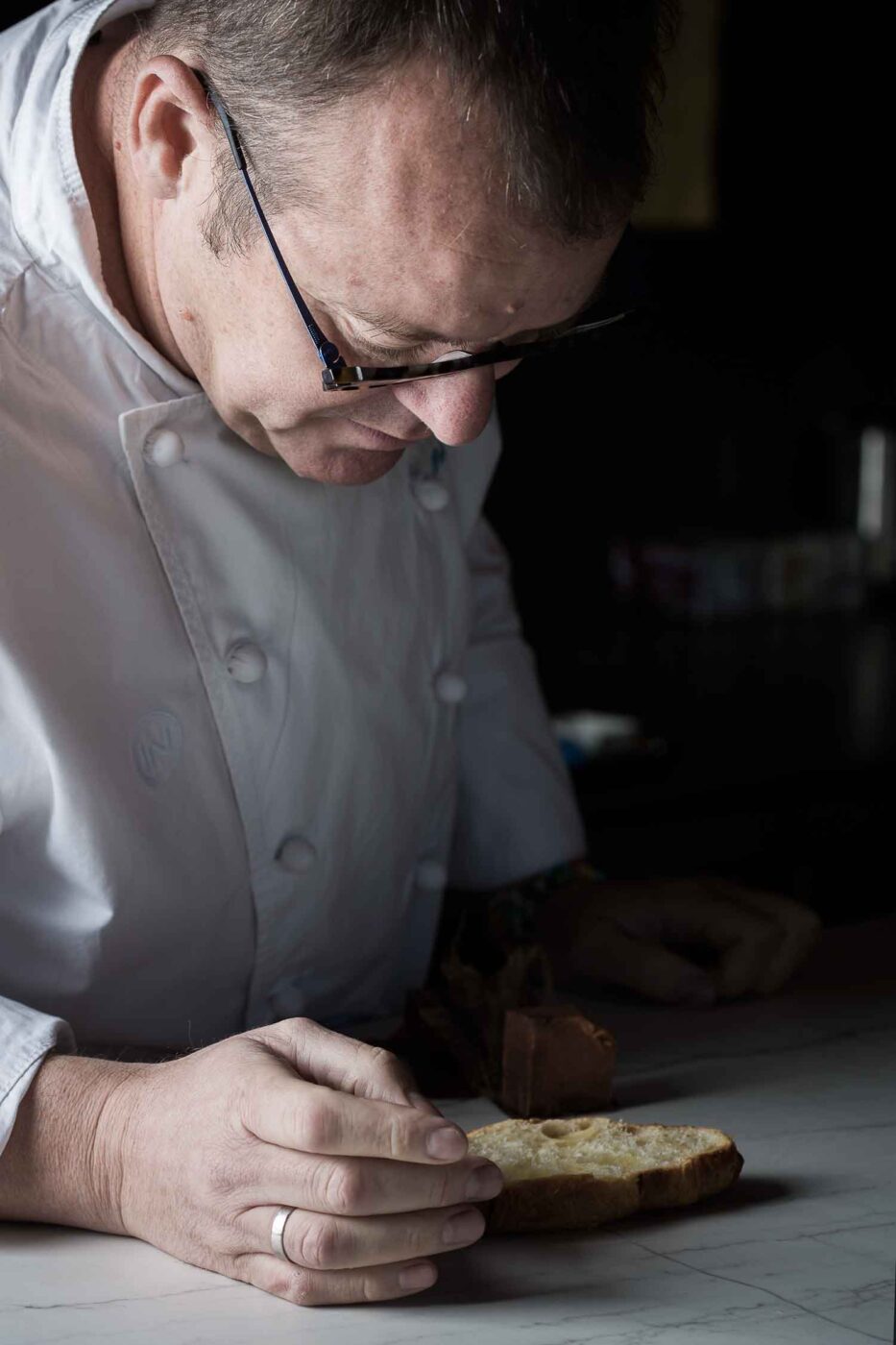 The Bluefin Alchemist
And that's no lie. This chef from Murcia had his first contact / love affair / awakening with tuna on a trip to Sydney, Australia back in 1999. All of it raw. He was dazzled. And he headed to my homeland. More visions and amazement at the delicacy, silent passion and meaningful ritual of Japan. And then he internalised a great deal of the influence and permeability of the Japanese restaurants he would frequent in Palma de Majorca, as well as the masterful example of Ricardo Sanz (Kabuki), before the Madrid chef became famous thanks to the Cookery Channel.
Ever since, Pablo has constantly looked and looked again, explored every angle of the loin cuts, the back cheek, stuffed noten, white tail (more prized than the black) for a marmitako stew or noodles that were previously the skin of a thousand seas. He has even dabbled in the powerhouse of this titan of the sea… "We noticed during the butchery that they discarded the entrails, including the heart, which was used for fishmeal. And we set to work on it".
"We also do what we call reverse ronqueo. We present five cuts of tuna to the diners, and then put the dishes together from there. To begin with, we used a clean, dry skeleton from a tuna that Fuentes brought us. The scenic impact was amazing. Now we have this in 3D," the chef finishes off, while showing a replica of the bones used as a serving dish and treasure chest.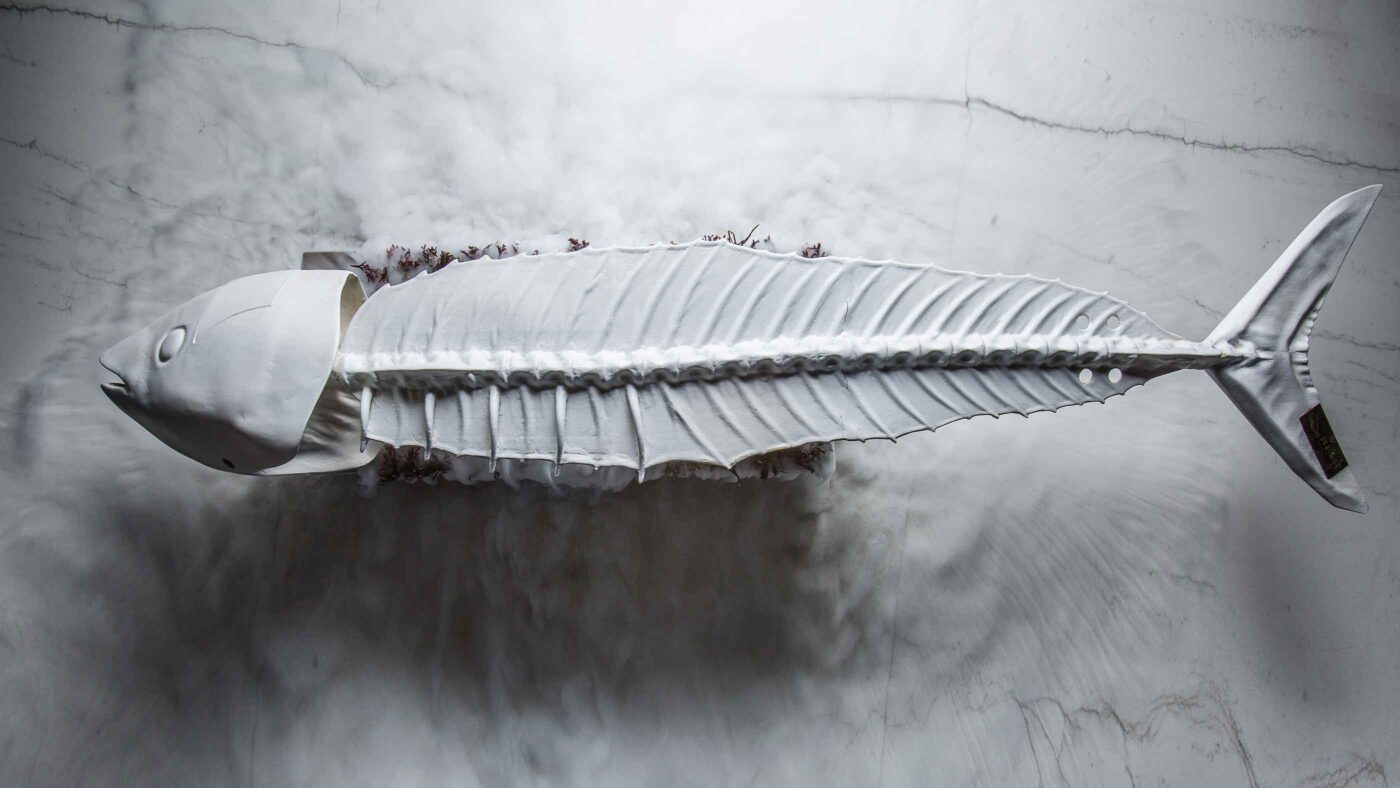 And for the future? "There is still room to explore, to study more, such as puffed skin, which I learned a lot about from Juanlu at Cocina y Alma in Jerez, foie using the liver, the heart, preserves in oil, which I simply love… There is always something new with this product. It offers so many possibilities. And we will seek them out".
Amén, say the faithful.

Hiroshi Umi