Yugo, or a bunker fit for a king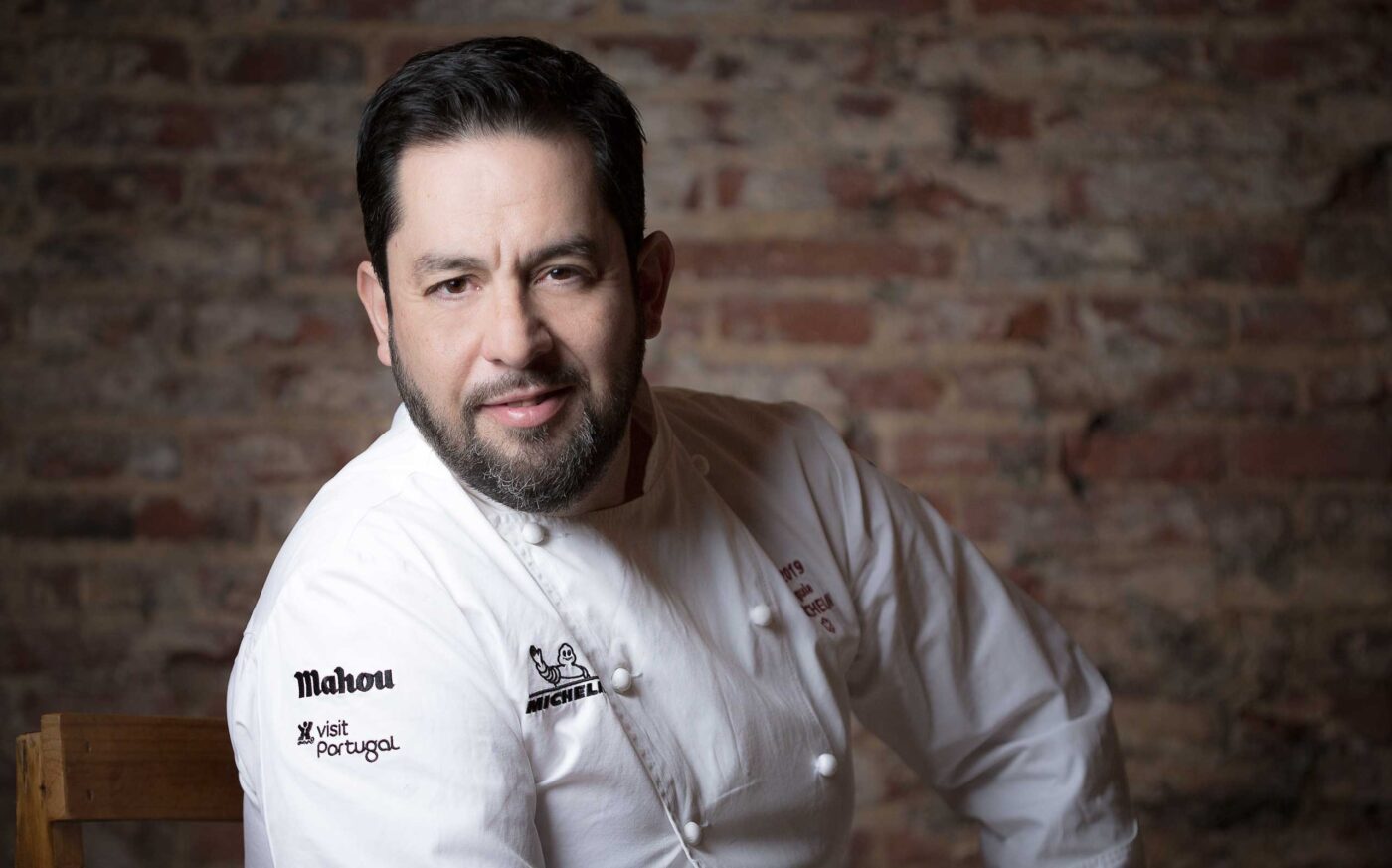 A logbook by Sensei Hiroshi Umi.
To summarise an unusual professional volte-face, a path of perfection and light, in just two sentences: Julián Mármol was a car salesman in 2007. Julián Mármol is one of Spain's leading chefs in the field of Japanese cuisine and methodology in 2021. Without any teacher. Without any mentor to correct or lecture about the finer points. Without any guide or track to follow, nor any of those teachings laden with morals or aphorisms that are shared on Facebook. Mármol did it all on his own. He stripped off his businessman's tie and buttoned up his chef's jacket. Like some quixotic Alonso Quijano, he crammed the brains behind his bushy eyebrows with so much umami as to become a celebrated chef of the art of rawness, his tempered knives slicing with precision through butterfish or bluefin tuna from Fuentes.
In my homeland we would call his case a clear example of "ku", which means to make the impossible possible. "For 13 or 14 years I ran car companies, and that is where my more business-focused side comes from. And then I did a master's in Overseas Trade, specialising in Asian studies. It was through Casa Asia that I learnt about raw textures, soy and vinegared rice. I had never tried it before, and it was love at first bite. I was crazy about it. And I started trying to do it myself, learning a little more every day. I started off with a blank canvas, completely independent and with no bad habits instilled in me. Necessity is the mother of invention. I had no teachers. Only an open invitation from the Serrano family, the owners of Cominport who imported Japanese produce," reveals Mármol from deep within Yugo The Bunker, a restaurant which has now pinned a Michelin Star to its door and has attracted a congregation of devotees including everyone from Zara-dressed royalty to stars of the football field, influencers who pay their own bill, a clutch of celebrities, politicians, gourmets and fellow travellers, all in search of its knowing depth and discretion.
Stepping inside the bunker
This is where we went to meet this unexpected metamorphosis. We pass through the curtains of Yugo The Bunker as if submerging into a submarine, a reinforced izakaya, a bank safe of stripped walls, cosy lighting and measured Japanese décor free of any strident touches. Between its red walls and tablecloths of pure wood, we looked the son of a housewife and a company truck driver in the eyes. And we spent two days there face to face: yours truly, a Japanese from Osaka whose future is dwindling before him, and a Spaniard from the Pueblo Nuevo district of Madrid, raised in a home measuring 60 square metres, from where he has hugely broadened his horizons.
"I am doing well professionally right now I'm well placed, well regarded, all of which has come from setting up the first Japanese private dining club in Europe, as the only self-taught chef, without ever having been in the country of origin, and having never previously run a restaurant! One of the fundamental principles has at all times been to make the most of everything, without needing to turn to sauces to boost the flavour. We use seaweed for the perfect point of salinity, or fish collagen as a flavour enhancer. No one had thought of doing that before. We have raised the level of naturalness and authenticity, making sure that our patrons eat well and enjoy a perfectly healthy digestion. Sophistication in cooking has led to a proliferation of flours, coagulates, fats, glutamates, thickeners and dioxides which people may like, but are not good for you in excess," the chef specifies.
Fuentes tuna on a pedestal
For a taste of what he means there are various menu options, with different tempos and prices, of course. Straightforward cooking and outstanding produce, subtle and hugely complex at the same time. The turntable springs into life with some wonderful nigiris of hamachi, scampi and scallops, sea bass tartare and marine pil-pil, cockle gunkan, Ossetra caviar, Galician beef and bull marrow with sea urchin, turbot gyozas, textures of salmon that are just right... and even burgers of wagyu and truffle (ineffable) and of Iberian pork.
Fuentes tuna on a pedestal. "We work with every last bit: from the backbone to the fat behind the eye, which is slightly sweet and is used as a dressing for rice. From the belt which runs around the belly, which resembles octopus, with a gelatinous part, but also muscle which gives it bite. We use different cuts of the belly, not just toro, chutoro and the esteemed and expensive kamatoro, but also the agasi, which is found between the two nerves. We have recipes for the face, cheek and noten. Even a stew made with the skin, serve like tripe, and we use the bones for soup… Akami nigiri with caviar oil, served with a soldier striped shrimp and smoked chipotle sauce, sashimi, a balanced kamatoro not saturated with fat, and cooked over charcoal… The tuna invites a nose-to-tail approach. Thunnus thynnus has really made a place for itself as a cornerstone of our offering. The possibilities that Fuentes tuna offers us are endless," he finishes off, with faith and conviction.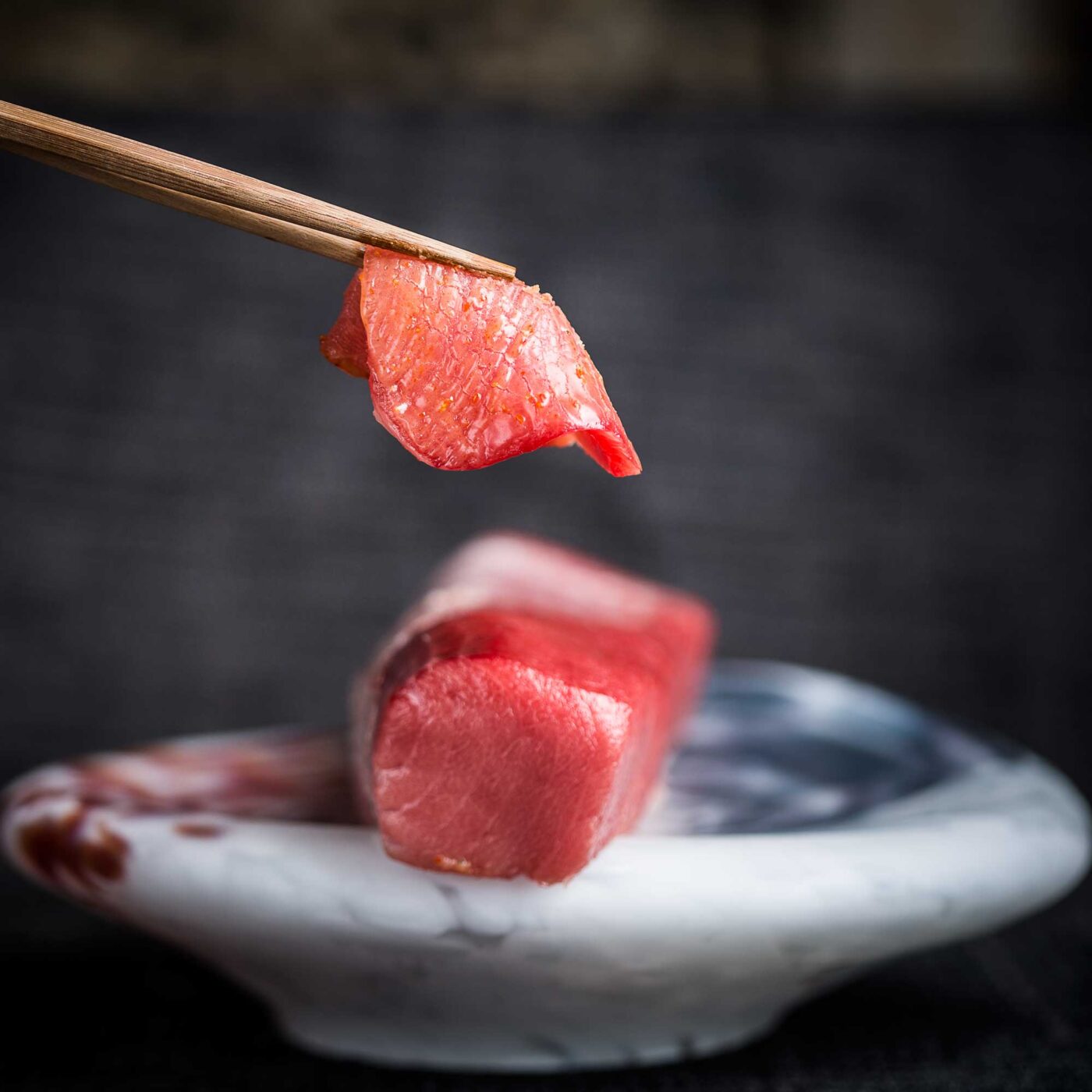 This intense dialogue with tuna allows for harmonious, balanced cuisine. Imaginative too. Busy with his experiments, he conjures up a tuna loin with marrow that leaves us feeling like emperors. A knockout. One wonders what this chef draws on to achieve such indefinable and yet authentic results. Might he be a spirit reincarnate from the Edo era? Has he not perhaps been transfigured? Yugo, pronounced with the accident on the second syllable, means fusion in Japanese. Mármol is perfectly frank. His words are clear and his ideas clearer still.
The chef's new projects
Very soon there will be more bearing his hallmark. He has signed up with the Godai restaurant in Majorca, with an offering tailored to the island's clientèle. And in October they will be opening a new place to dream at Galería Canalejas within the Four Seasons, the dazzling epicentre of hedonism in the Spanish capital. Faith, enthusiasm, determination and talent are all suffused in this buccaneering explorer with a roguish glint in his eyes. His trajectory could be taught at any business school. And to be honest, a bunker is always the best place to reflect on where we stand in the world…