Tora: a tiger on the loose in the Salamanca district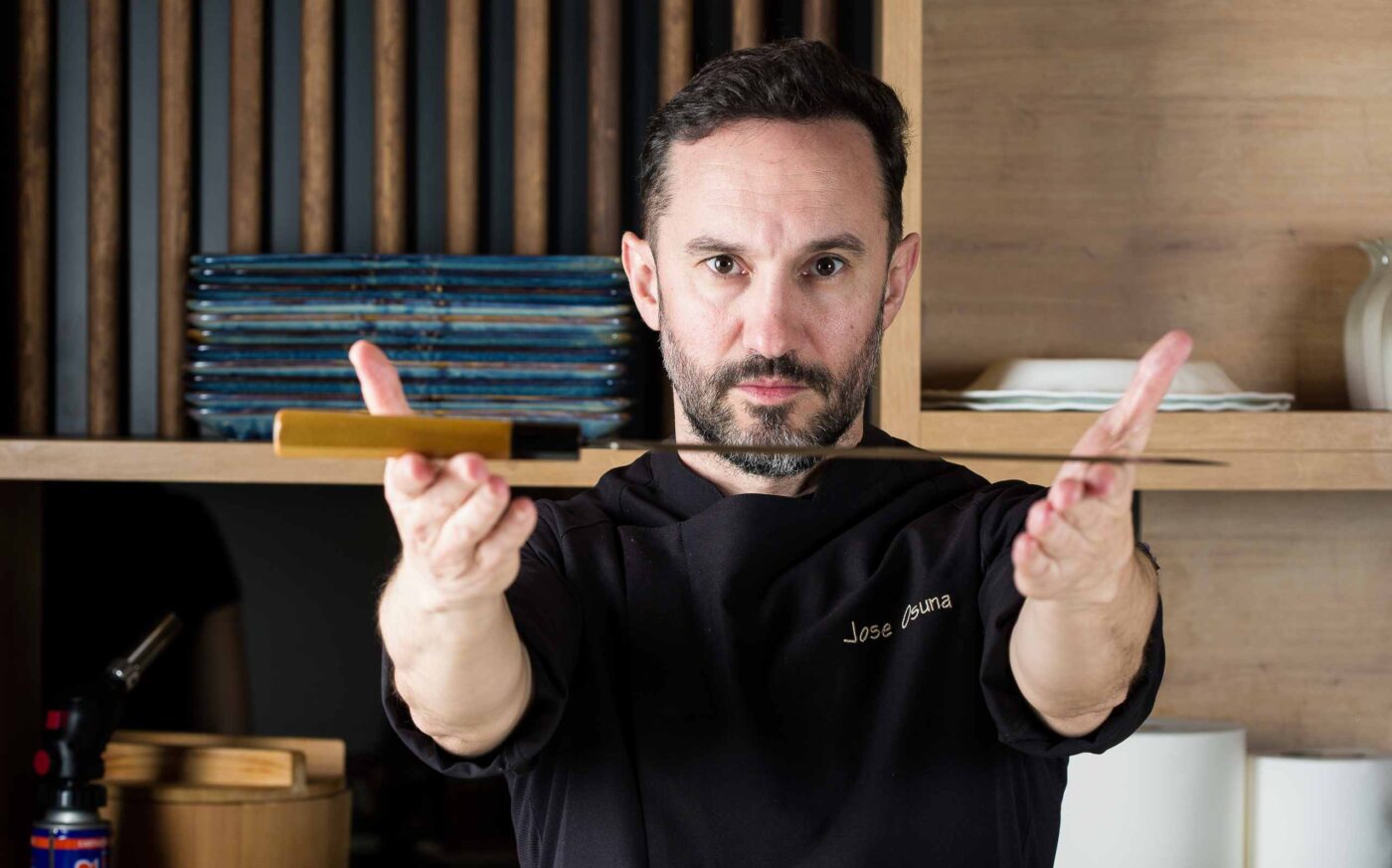 A logbook by Sensei Hiroshi Umi.
A talented, self-made sushiman, an investor who is an elite footballer, and a hugely elegant venue in the heart of Madrid's Salamanca district. These are the calling cards of Tora (tiger in my mother tongue), which according to the chattering classes is one of the season's sensations in the culinary melting pot of the day. A feat which it has achieved in a sector (Japanese-styled restaurants) which is seeing ever greater competition, as more and more rivals open their doors. Nonetheless, with his self-taught backstory and the patronage of Atlético Madrid defender Mario Hermoso, chef José Osuna has found his own place in the sun on Calle Padilla, formulating an accomplished, well-judged, tasteful discourse, with flashes of innovation. The trail that Osuna leaves behind him speaks of hard work, sacrifice, and twists of fate. He grew up in the Usera neighbourhood, right next to what is known as Madrid's Chinatown, where his grandmother inculcated in him a love of cooking and of ringing the changes.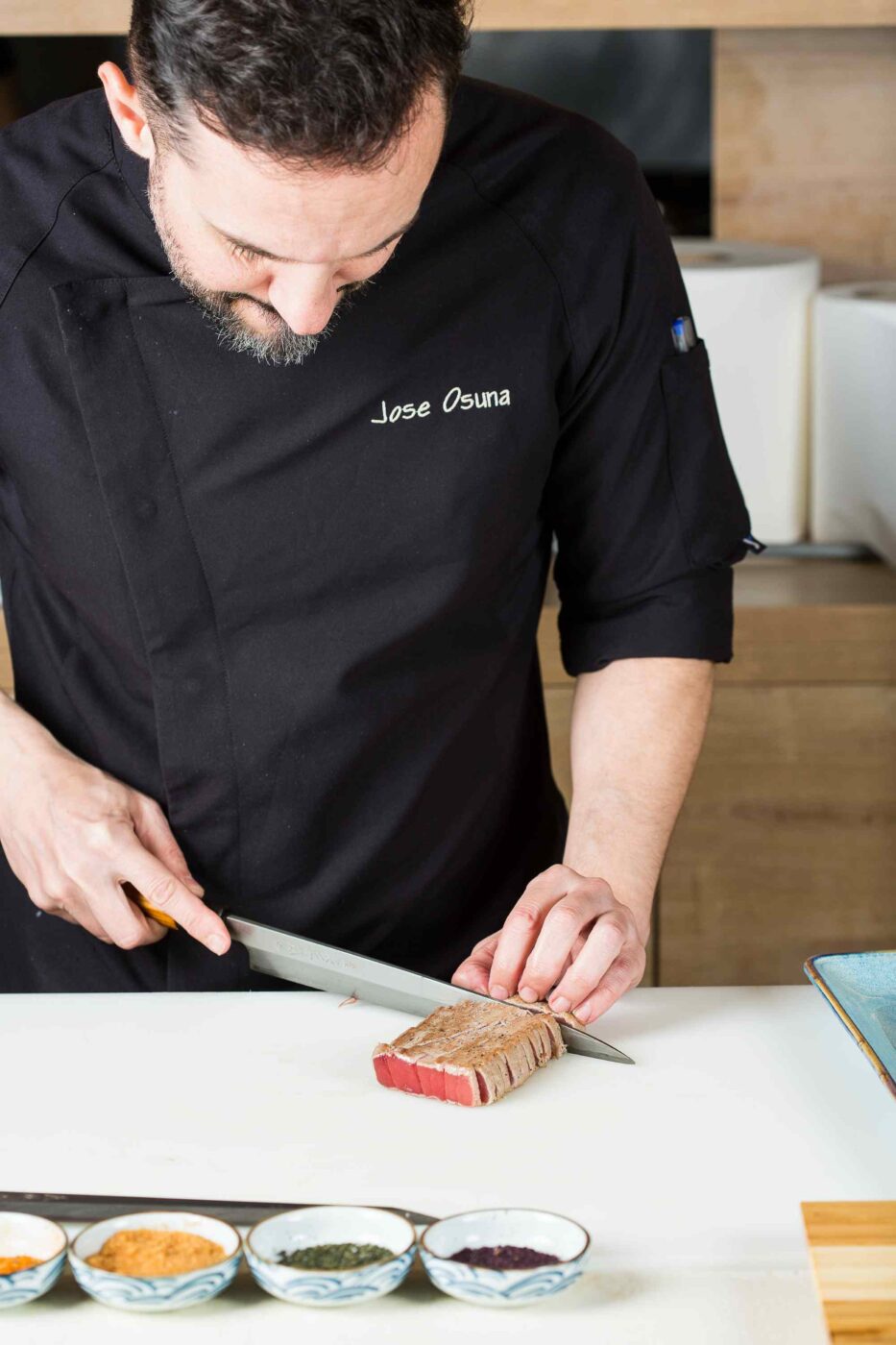 From the south of the capital to the more upmarket districts, stopping off along the way on the island that never sleeps, Osuna has now made a successful homecoming… "I wasn't always in this line of business. I worked in PR, nightlife… I started out teaching myself, I never studied cooking.  I spent nine years at Pachá Ibiza. And I made the change because I always loved cooking. I used to make sushi at home, although my first attempt turned out so badly that I swore I would never make it again (laughs). I gradually improved, and had the chance to serve it at a catering event for a friend who put on parties on boats and suchlike in Ibiza. From there I moved on to the restaurant of an acquaintance, and then realised that this was what I wanted to focus on. Over time, I worked with the leading sushi chefs in Madrid, and to my mind the best in Spain. I was at KBK, Bambudha alongside Alejandro Arquero, Groove, and above all the time I spent with Mario Payán at Kappo, which was a real upward learning curve, trying things out, running an omakase. I became what you see now thanks to him as well," he recounts with gratitude.
Tora: the definitive project.
Along the way, the obstacles encountered and the crazy working hours gave our protagonist his doubts. Crazy working hours, little work-life balance, far from rewarding pay… It was then that Osuna decided it was time for a change, when restaurant manager Sandra Gacio put all the pieces into place. An outstanding venue, a chef eager to fly solo, and a partner with the financial muscle and the desire to make a noise in the culinary field. "They got in touch with me, and I cooked at Mario Hermoso's home. It all fell into place. I took a real shine to the project. I realised that I could do things the way I felt, on good terms for me and the staff. We found a venue, and opened in July 2022. We also work with the very best produce, such as the finest bluefin tuna supplied by Fuentes," he explains.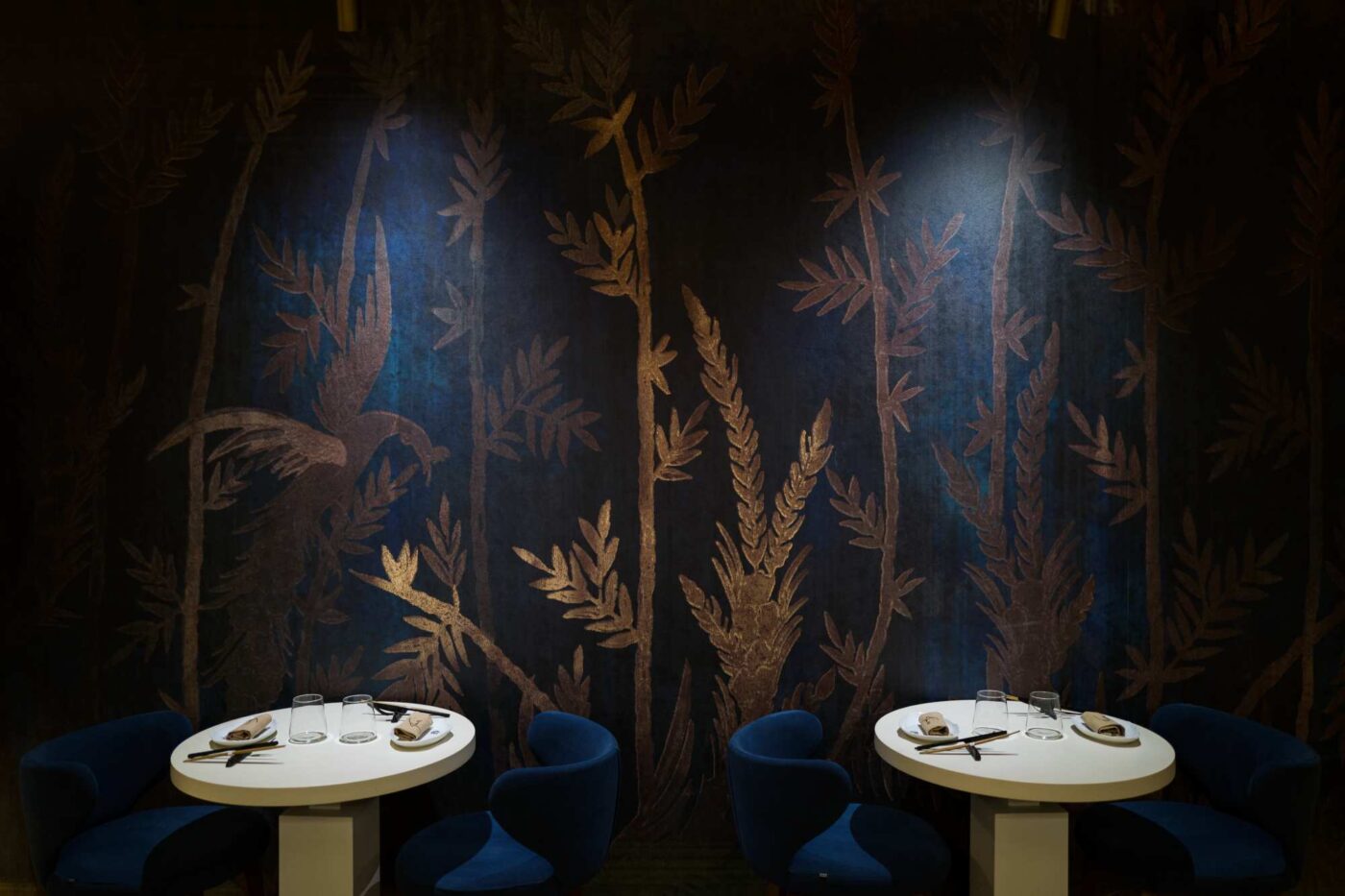 With a highly personal approach (Osuna recalls in detail the specific features of each of his customers), the chef orchestrates a Japanese narrative, dotted with subtle Mediterranean touches. His discourse is split into two propositions: upstairs, where diners order à la carte at the bar, and the private room below, seating 10-12, where customers leave it all up to the chef, to serve up dishes based on fresh, seasonal produce that is constantly changing.
In both cases, bluefin tuna is an unmissable feature: outstanding examples include the tartar with piping hot miso (deep and invigorating, which the customers fill up as they go), the outstanding tartar with farmyard eggs and green sisho, and the toro, with yolk, a touch of spice and black truffle.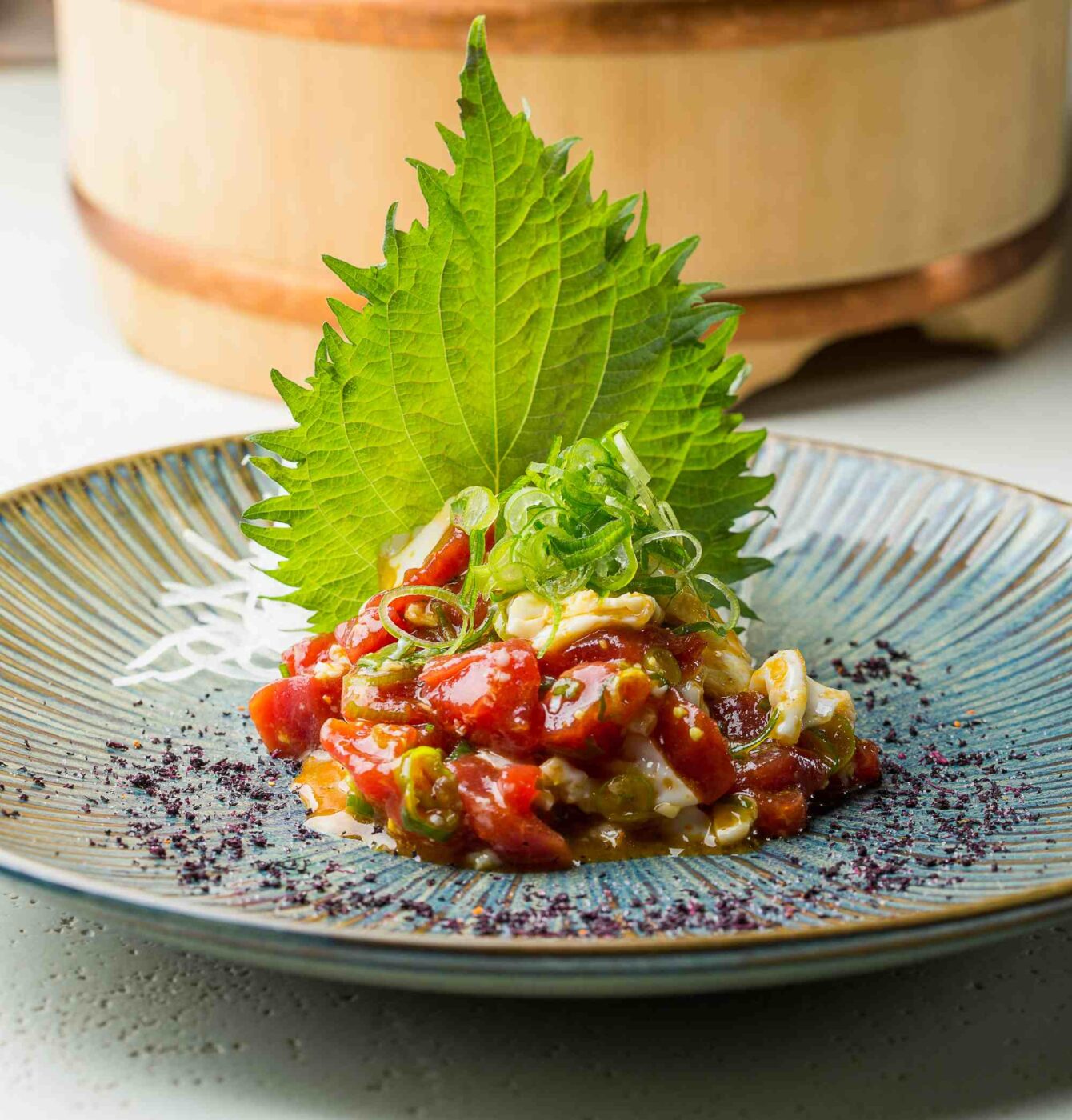 Purism with sparks of flavour
The Madrid-born chef handles his knives and the sogizukuri cut with rhythm and precision. He serves up a geometrical bluefin tuna sashimi, along with a tasting menu of various cuts of the same fish, according to market demand. The nigiris are packed full of mellifluous umami, in particular those included in the Fusion section, both the charcoal-smoked tuna and the toasted toro with scallops, and above all the version which has melted wagyu fat poured over from a slotted spoon, and is topped with beads of the finest caviar. Out of this world.
There is also space for first-class hamachi ceviche, Norwegian salmon, wild sea bass usuzukuri and toro tataki with salmorejo and garlic chips (intriguing, with sunomono and sweet wine), Japanese prawn curry, oysters with mirin or ponzu, Asturian blood sausage gyozas with pearls in red wine, chicken yakitoris, exquisitely marbled A5 wagyu at 160 euros a kilo… For dessert, torrija and mochis.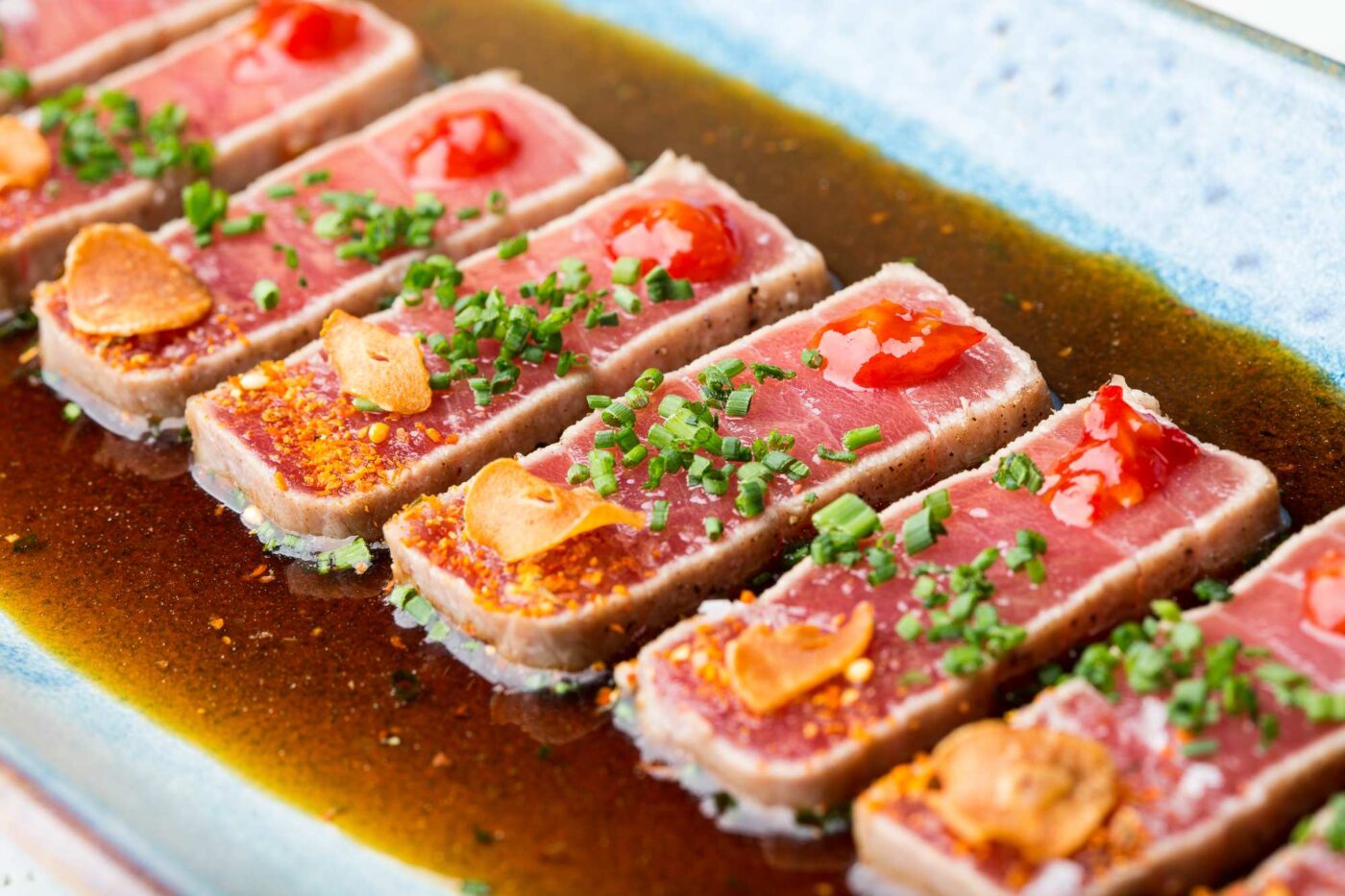 "The tuna is the king of the sea. I don't care for it cooked, but absolutely love it raw or seared. For anyone into Japanese cooking, it is an essential product. You can't run a restaurant without it, you can't say "I don't have any tuna". It's the bedrock," he explains, having visited Japan in 2018, with a promise to return this summer. "The idea is to maintain that purism, the ingredients, but with recognisable sparks of flavour, above all on the omakase menu". Osuna ends by saying that he is no huge fan of the ronqueo tuna butchery, and likes to disconnect with a surge of adrenaline, whether at the gym, snowboarding, or roaring along on his motorbike. The kitchen is where he keeps things steady.