The self-taught Romeo who has conquered Alicante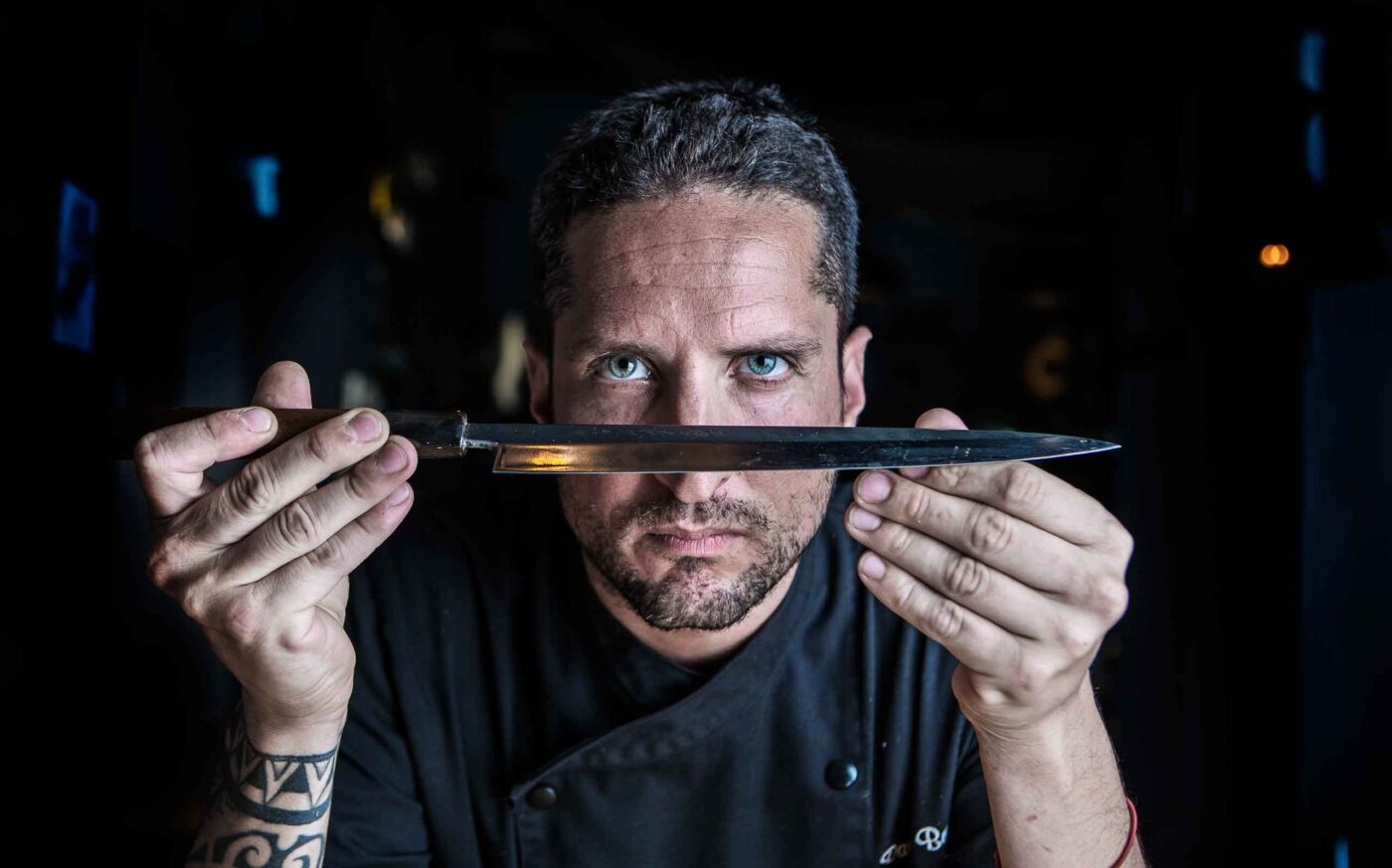 No restaurant sector consultant or business strategist would wager a dime on such audacity. An intrepid young Italian émigré, with no prior experience and no Japanese roots, investing in setting up sushi restaurants in the heart of Alicante, when the most commonsensical or expected approach would be to open a pizzeria or a trattoria with a set menu.
Fortune favours the brave, however, and there are those who, self-taught and with a dash of boldness, are capable of tearing up all forecasts. Who thanks to their talent, perseverance and knowledge of spreadsheets, can gainsay with their numbers and flavours the predictions of consumer analysts. Because the Veronesse Davide Bersan (Verona, 198X) is enjoying a boom with his Katana Bistrot and related businesses of different types and styles.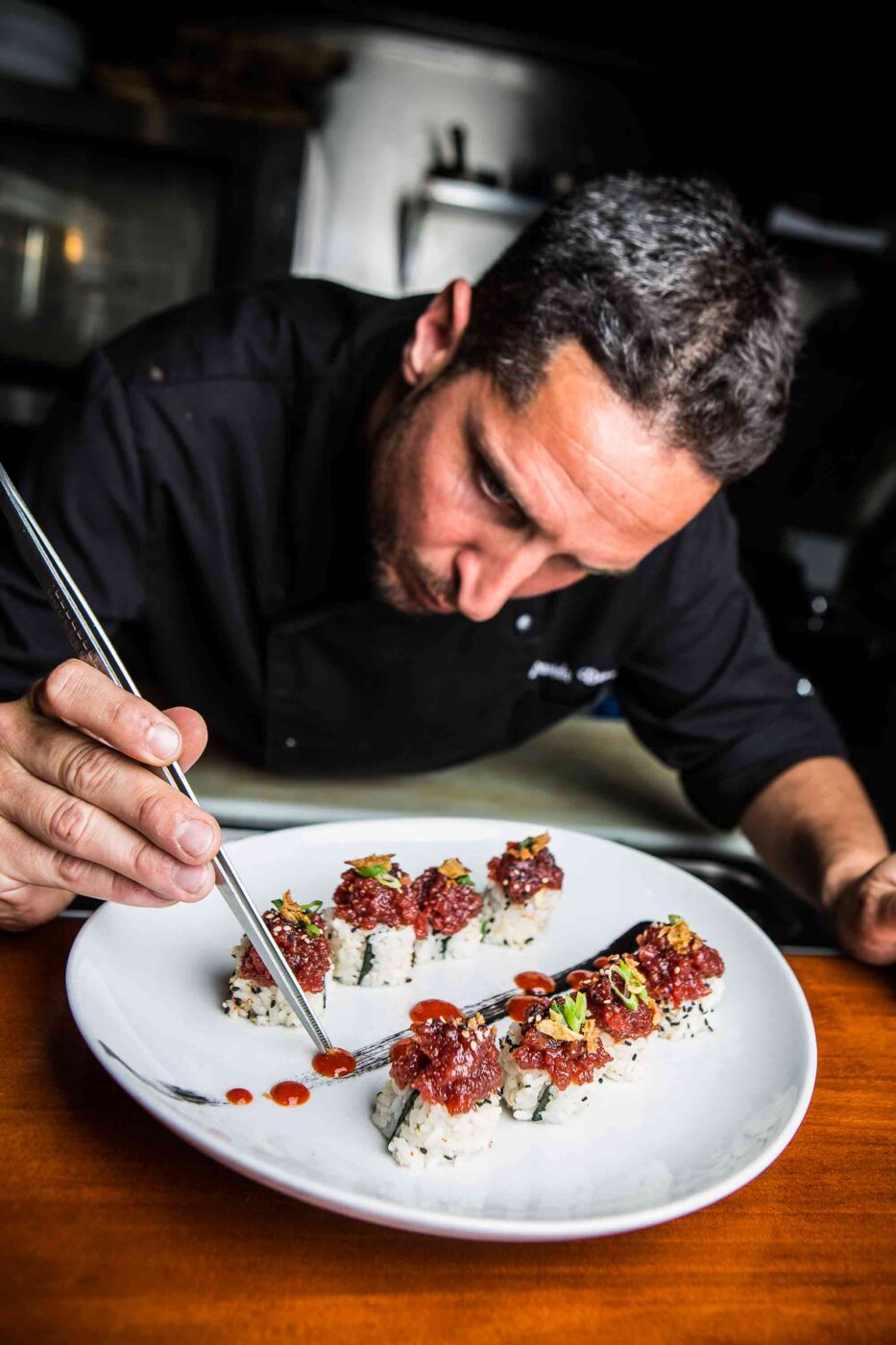 This humble restaurateur set up shop on the Coast of Light to try out his skills and chalk up a success with his outstanding nigiris and uramakis at the heart of the equation, and a stall on Alicante market which is more than worth a visit. "Katana Bistrot is the last of my three restaurants. We wanted to create a more formal version of my culinary concept with this venue, as we already have the Katana Street Food Corner, which is the food bar, a stall at Alicante's Central Market, with a more rough and ready approach and finally, Lluvia, our vegetarian restaurant. The Bistrot is a more comfortable version, more of a restaurant, where customers may feel more at home. All with a team behind it, and bigger and better kitchen facilities to serve up dishes of a higher standard," Bersan specifies.
Born in the 80s in the city where Shakespeare dreamt up the passionate drama of Romeo and Juliet, this self-made sushi man ended up in Alicante driven by the irrepressible urge of love. He spent time in Ibiza, via the United States, before sinking his anchor in Alicante some years ago now.
Following in the footsteps of the great chef Giancarlo Perbellini
In his knapsack, the experience earned alongside the renowned chef Giancarlo Perbellini. It was when working with him that he realised he could make a living for himself in the demanding restaurant world. "It was with Perbellini, who has nine restaurants and has earned Michelin stars, that I began using raw fish. I began to see how you can nurture tuna and other types of cut. I was lucky enough to learn all the fundamentals, the working methodology, respect for the ingredients, keeping things clean and tidy, the essentials that allow you to create. And then on the Asian side of things I was completely self-taught. I learned gradually, little by little. No one taught me, I had no mentor, although I followed the very best online so that I could improve and grow. I spent time in Japan, an amazing experience where I ate everything from the very cheapest to the most refined dishes, travelling to Tokyo, Osaka and Kyoto, trying out the very finest sushi. That really helped me. My methods might not be those of a true purist, but I have evolved a great deal over the years, growing gradually through trial and error. I have aimed to fuse my Mediterranean origins with oriental methods and even dishes from Alicante, to draw on local recipes and produce, such as sushi with senyoret rice, with squid, with rabbit and snails, with pericana… All striking a balance", he recounts, his swimming pool-blue eyes glistening.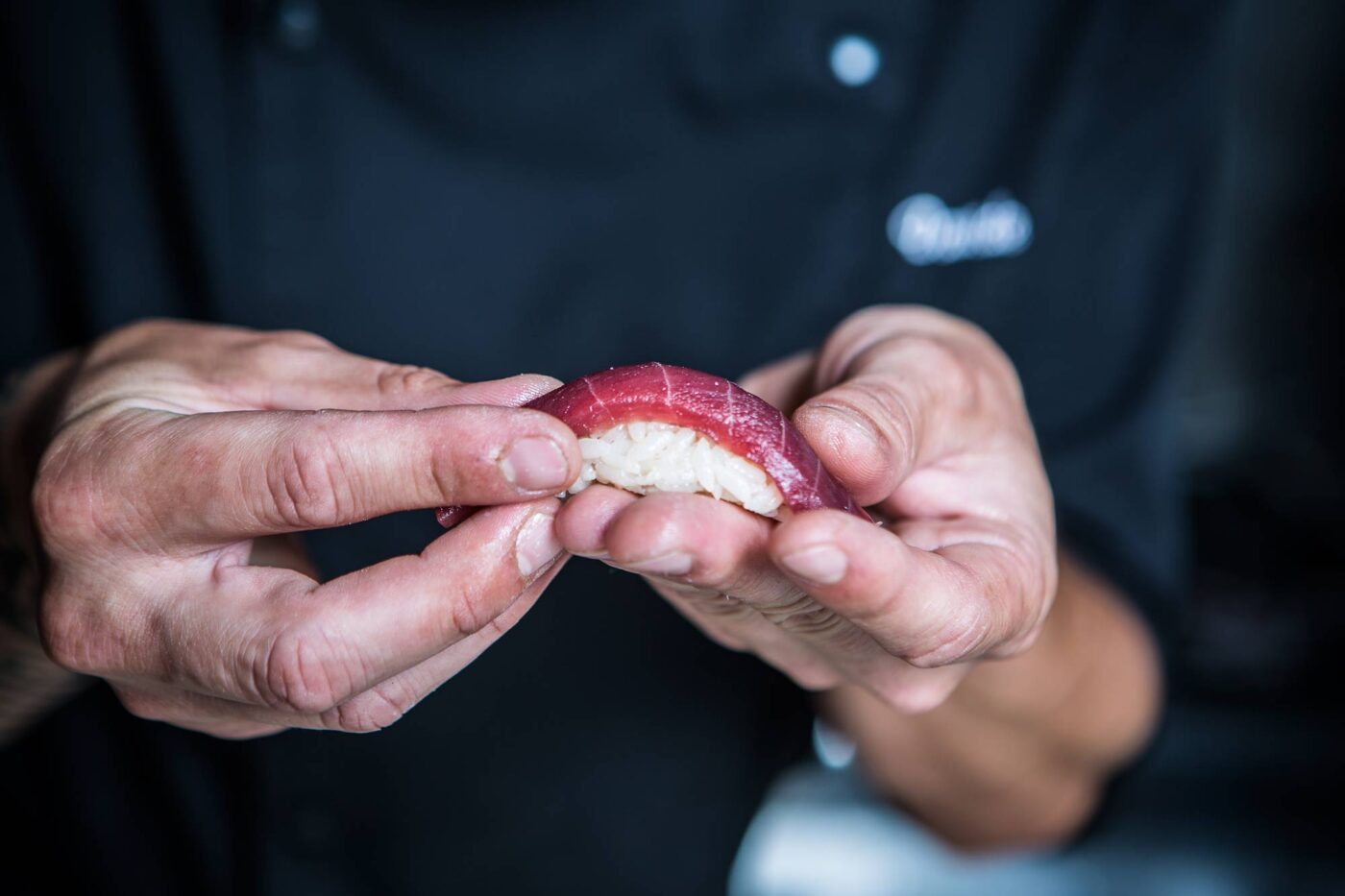 "It's less expensive to eat at the Market, with a different type of dish. It's still not cheap, though, around 30 euros per head, because the produce is there. It started off as a sushi stand, prepared in full view, with plenty of feedback from the customers. I looked at La Boquería and the Mercado de San Miguel, as concepts which evolve. We opened up and people were taken aback, because of the proximity and novelty. There was nothing like that in the city, so down-to-earth and fun. We even played music. It's not like that now, because of many factors such as the pandemic, and market rules and opening hours, but it retains its spirit. A lot of people have copied us, and there's plenty of competition now," the sushi man explains.
The result, perfectly cooked rice, deeply flavourful, with the grains quite loose in each nigiri, using ingredients drawn from the seas off Murcia where Fuentes fattens up its tuna. Excellent tuna tataki with a sesame crust, just the right hint of crunch and a sauce that embellishes rather than masking the flavours; plenty of umami in the uramakis with avocado and fusion in the carbonasia, in other words spaghetti carbonara with bluefin tuna tartar, soy sauce, spices, coriander and white and black sesame.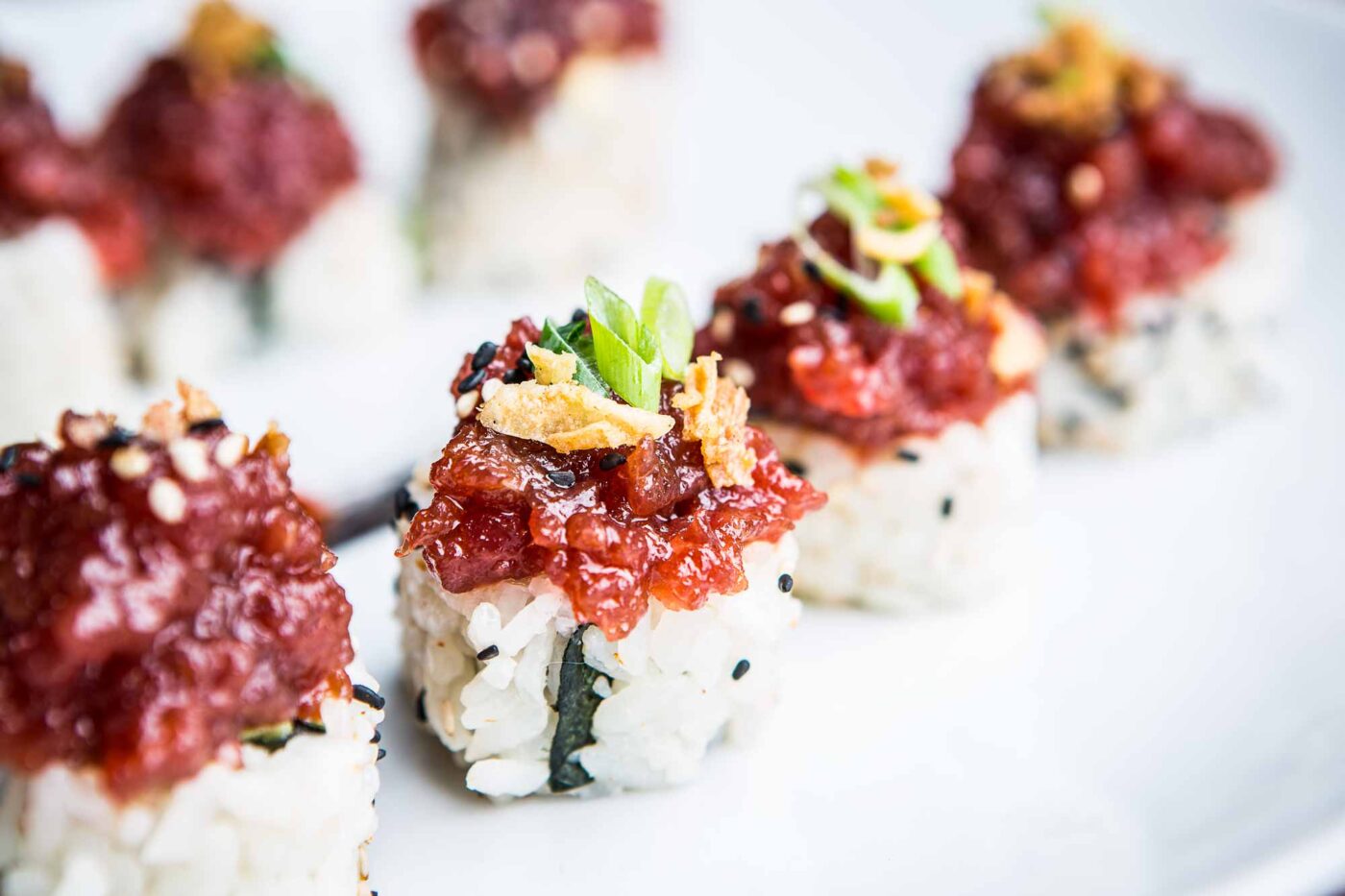 "Fuentes tuna is a really high quality product. We're really happy. They give us regularity, reliability. The customer always knows what to expect, with a balance between price and quality. And so here we always aim to respect the produce," the Italian chef explains.
A deliciou Corner on Alicante's Central Market
A few streets down from this Katana –in memory of a "dark little dive" of the same name in Miami that Bersan fell in love with ("there were people queueing up to try the sushi, which flowed in a river of little plates – it was of supreme quality")– stands Katana Street Corner. Nestled in the semi-basement of Alicante's Central Market, a marvellous modernist construction erected in the early 20th century on the site of the city walls, and which experienced the horrors of Nazi bombing raids in the Civil War.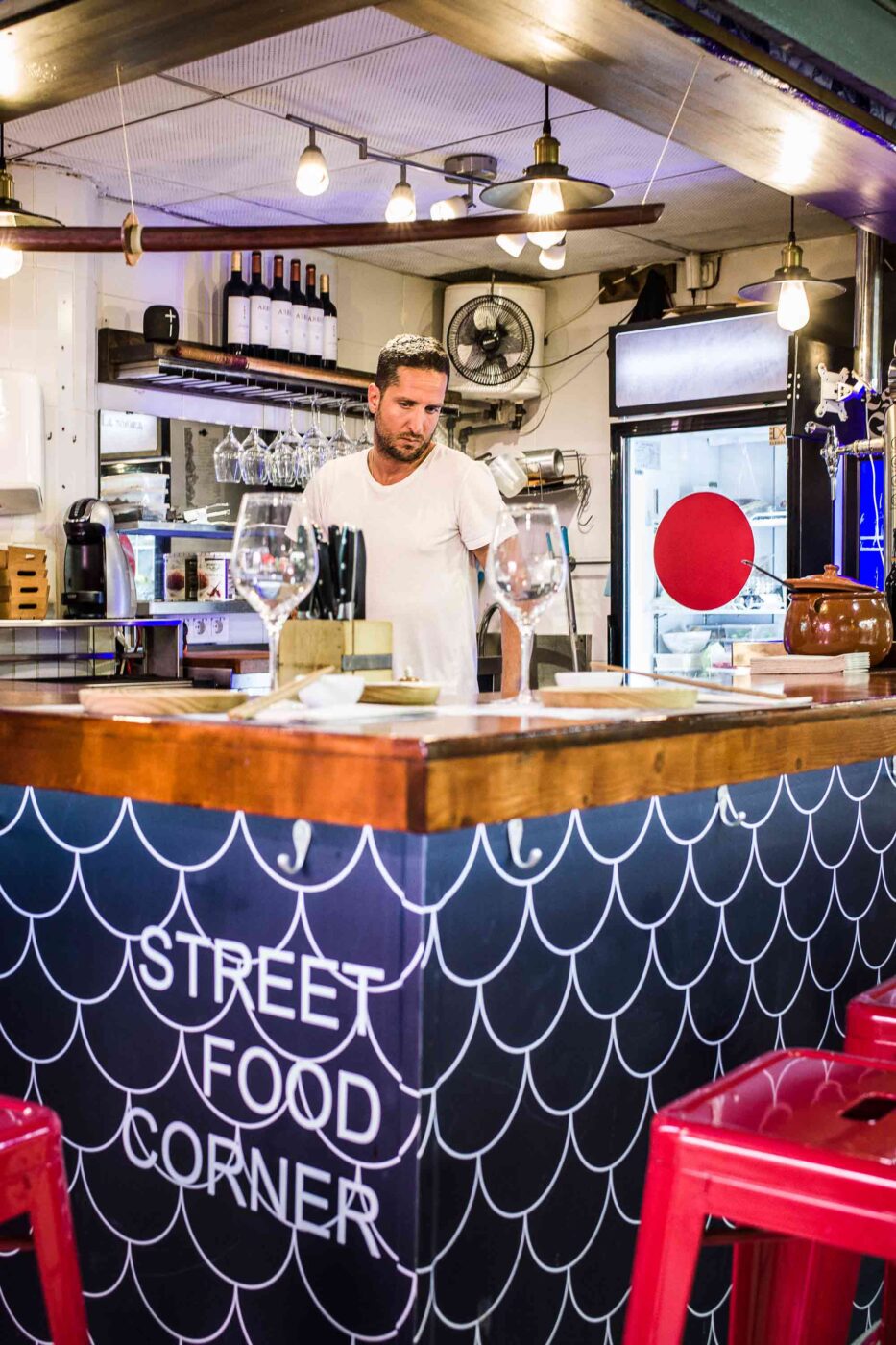 Every day, Bersan opens up at around 11 in the morning. A corner stall for a quick, laid-back, high-quality meal of succulent sushi, seated on one of the 11 blood red stools. The nature of the venue and its flavourful humility remind me of Dreams of Sushi, a fantastic 2011 documentary about the work and sushi masterpieces of Jiro Ono, whose tiny and surprising stall at Ginza metro station in Tokyo was emblazoned with three Michelin stars up until 2020. One cannot compare the two in terms of talent, history or method, but it is wonderful to plunge into Alicante Market, alongside stalls selling Mutxamel and Altea tomatoes, and to sample the boldness of a chef who, like that other gentleman of Verona, Romeo, has sworn eternal love to Alicante, from a market stall.