Hermanos Vinagre, or why bluefin tuna is a sublime tapa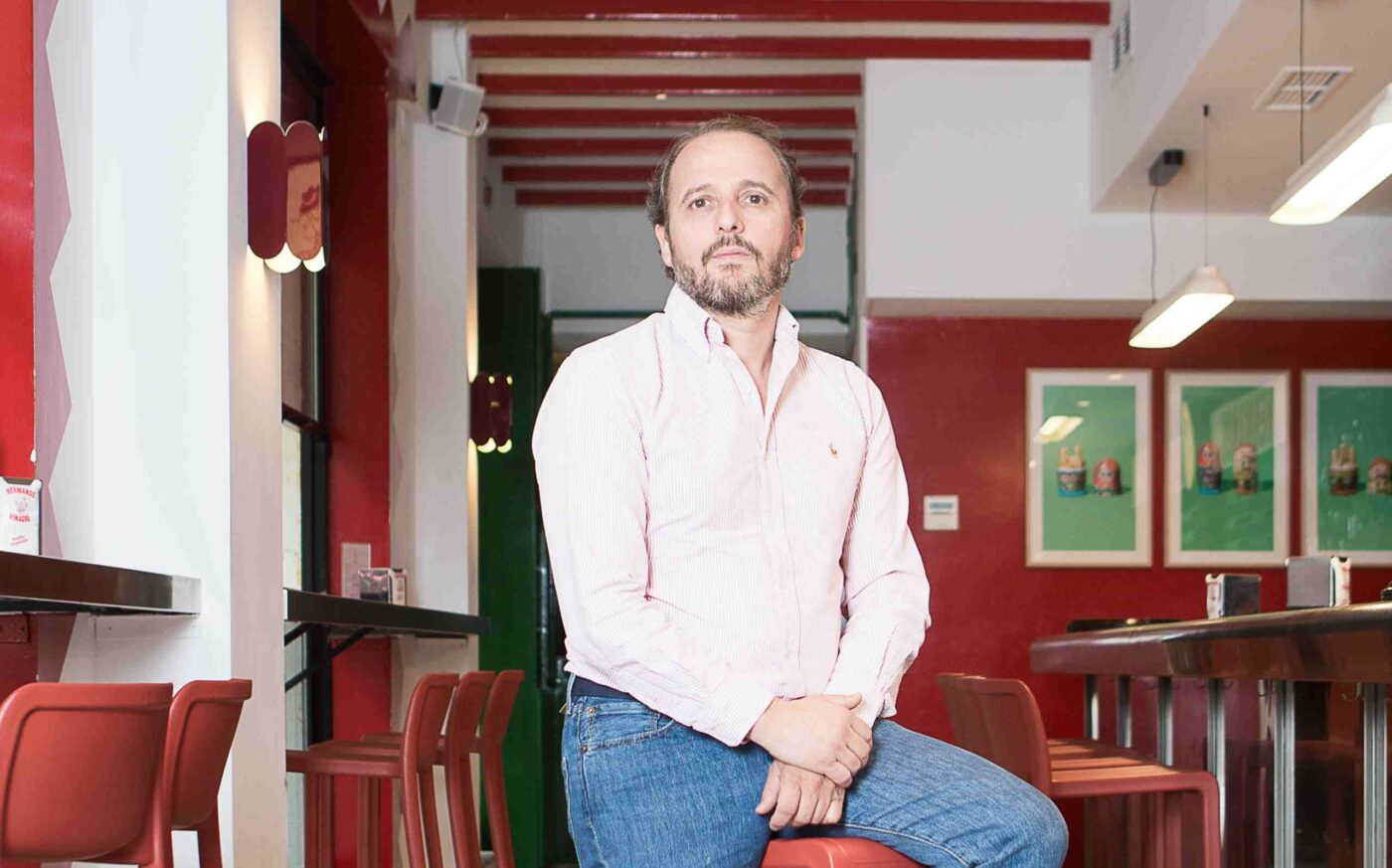 I first set foot in Spain as a gastronomic correspondent back in 1989. And what my bosses got me to explore to begin with was what I then defined as holy ground: the bars of Madrid. Notebook in hand, my bewildered face betraying my stupefaction and enjoyment, I headed into inns, pubs and all manner of dives, treading floors laden with discarded prawn shells, soggy paper napkins, olive stones that would stick in the sole of my boots, dismembered bread rolls and crumbs, fragmented chips, toothpicks…
In Labra, in a back alley off the Puerta del Sol, where the old "No Singing!" sign still stands, although the din would make any song inaudible and unintelligible. Despite the wastepaper baskets bolted to the bars, I was particularly struck by the custom of dropping any leftover snack to the floor without a care. It was somehow liberating and dirty at the same time. Those old inns with a metal-topped bar, that were a whirl of anchovies in vinegar, lupin beans, Russian salads, pickles and conversations after leaving mass (for those who went), are today experiencing a wonderful revival thanks to venues such as Hermanos Vinagre. The aptly named 'Vinegar Brothers' is indeed run by the siblings Carlos and Enrique Valentí, who have three premises (and more to come) in my beloved Madrid.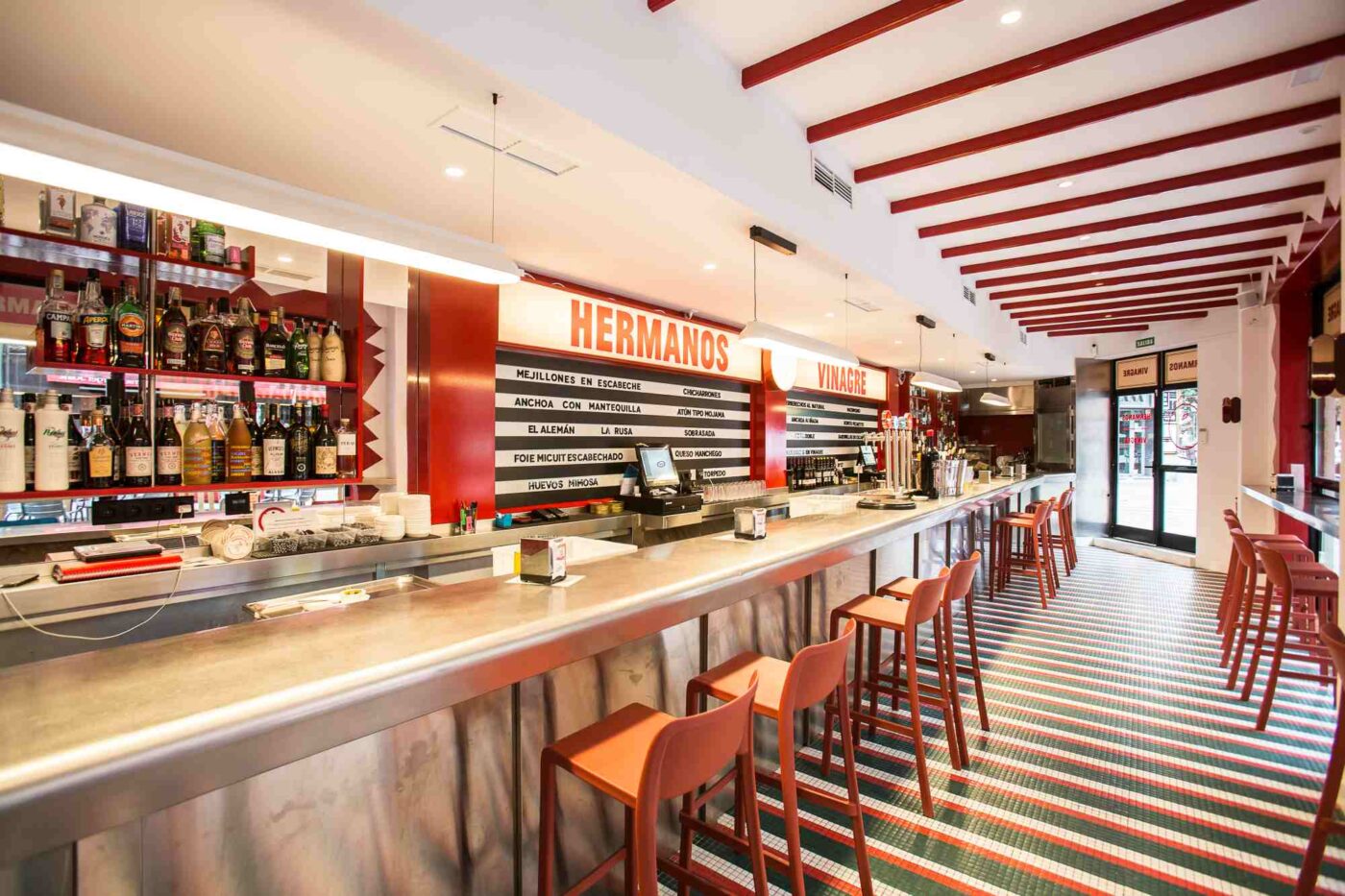 Carlos Valentí: from Rubayat to Hermanos Vinagre.
I settled down at the bar of their establishment in Chamberí with the healthy intention of witnessing and examining how bluefin tuna works as a snack and tapa, that delicious, small-scale world that condenses identity and succulence. I have to say, though, that these days everything is perfectly spick and span, wherever you may tread… The floor has been mopped to a mirrored finish. Half an hour after noon, the perfect time to begin quaffing the vermouth and switching on my voice recorder. "It all comes from the memory we had of those traditional neighbourhood bar snacks. I grew up very close to these premises, and really feel at home here. People I went to school with will come by. It has taken a long time to get here. I began working in the hospitality trade at the age of 16, at Cabo Mayor, which is where I learned most of what I know, the place that made the biggest impression on me. Over time it was converted into Rubayat, where I was executive chef for 10 years," Carlos Valentí reminisces.
"It was also at Rubayat that we most focused on tuna, a group born in São Paulo more than 50 years ago. The love of tuna came from the fact that when we launched the outdoor terrace season, we combined what we ended up calling Tropical Kobe Beef, which was a mixture of breeds, together with the Kobe of the Sea, bluefin tuna, so named because of the distribution and percentage of fat, the physical resemblance, its refined status… We had a tradition of cutting up the tuna in the traditional style. There was an overwhelming throng of press, fans and our customers, and we created some outstanding surf and turf dishes," Valentí recalls. He never learned the skilled art with a knife required to fillet this titan of the seas -"that is for the master craftsmen," he says-, but his knowledge and love of tuna led him to "organise tuna butchery demonstrations in Mexico and Chile, to introduce those markets to bluefin. Rubayat amounted to nine restaurants, five countries and seven cities. Back then, I would spend nine months away from home".
Objective: embellish traditional bar snacks
Despite all the hustle and bustle of travel, Carlos Valentí has always found a place for our beloved fish. "We've used every part of its anatomy. I am a really keen on the different parts of the head, but less of a fan of the belly, of which I have maybe had my fill. It goes well on the barbecue, as does the back cheek. I remember that we used to do tuna loin with green cardamom and roast meat jus which was outstanding".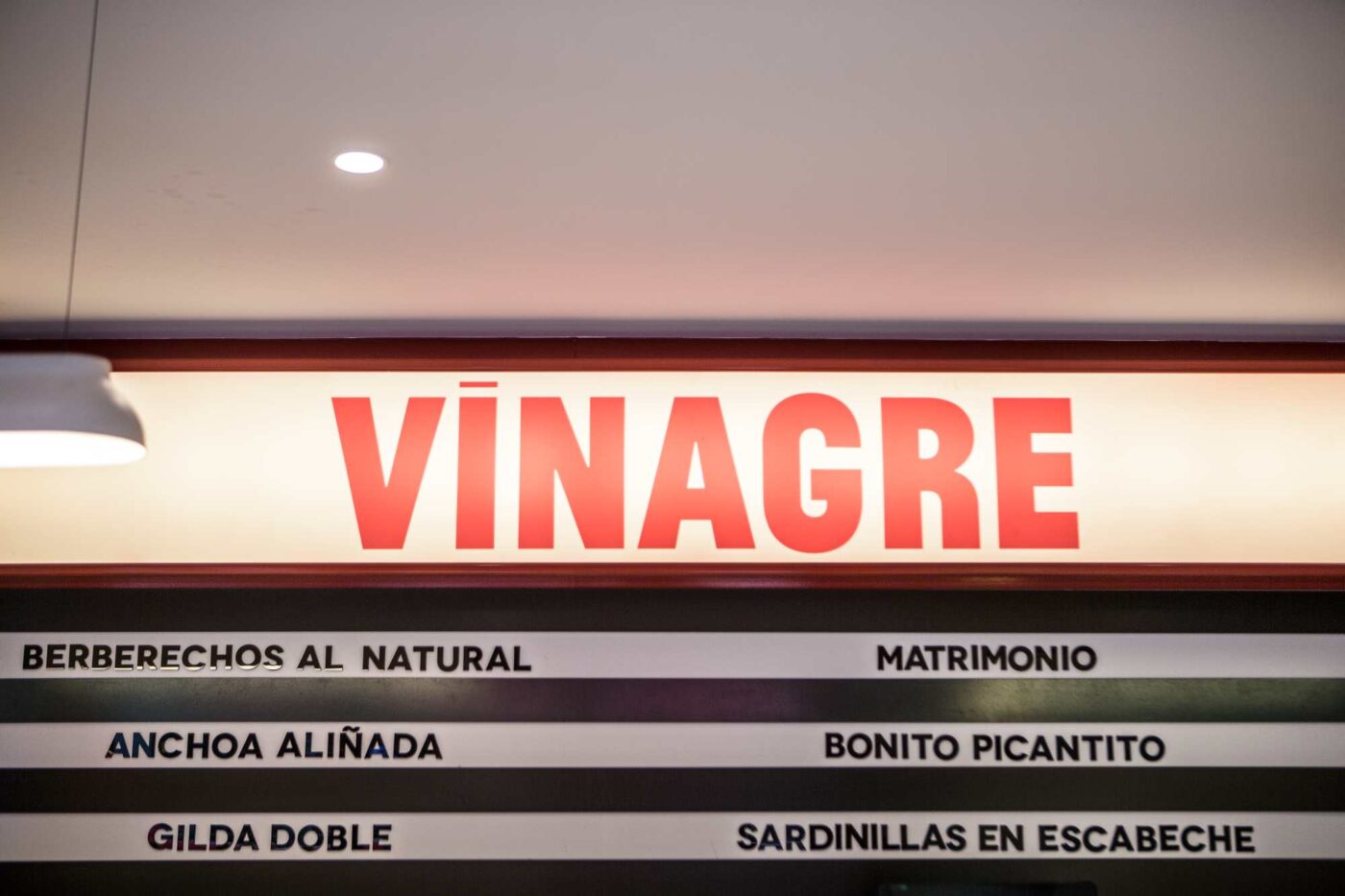 After being featured on TV programmes and elsewhere, Rubayat's spark faded, but lit the flame of Hermanos Vinagre. It was Enrique, Carlos's brother, who stoked things up, and who is now dealing with and redefining projects in Barcelona. The guiding principle was clear: restore splendour and apply technique to the finest ingredients. In short, embellish the traditional old bar snacks of pickled anchovies, cockles, ceviche, mussels, pig's ears, spicy potatoes and fried squid sandwiches of their childhood in Chamberí… And without leaving bluefin tuna out of the equation. "We had to set ourselves apart, which involved producing our own pickles. To do so we set up a small workshop with a kitchen in Boadilla del Monte, with our own autoclave. We experimented with temperatures, pressures and cooking methods that weren't at all aggressive, to achieve a really refined product. We sacrifice shelf life for freshness and texture".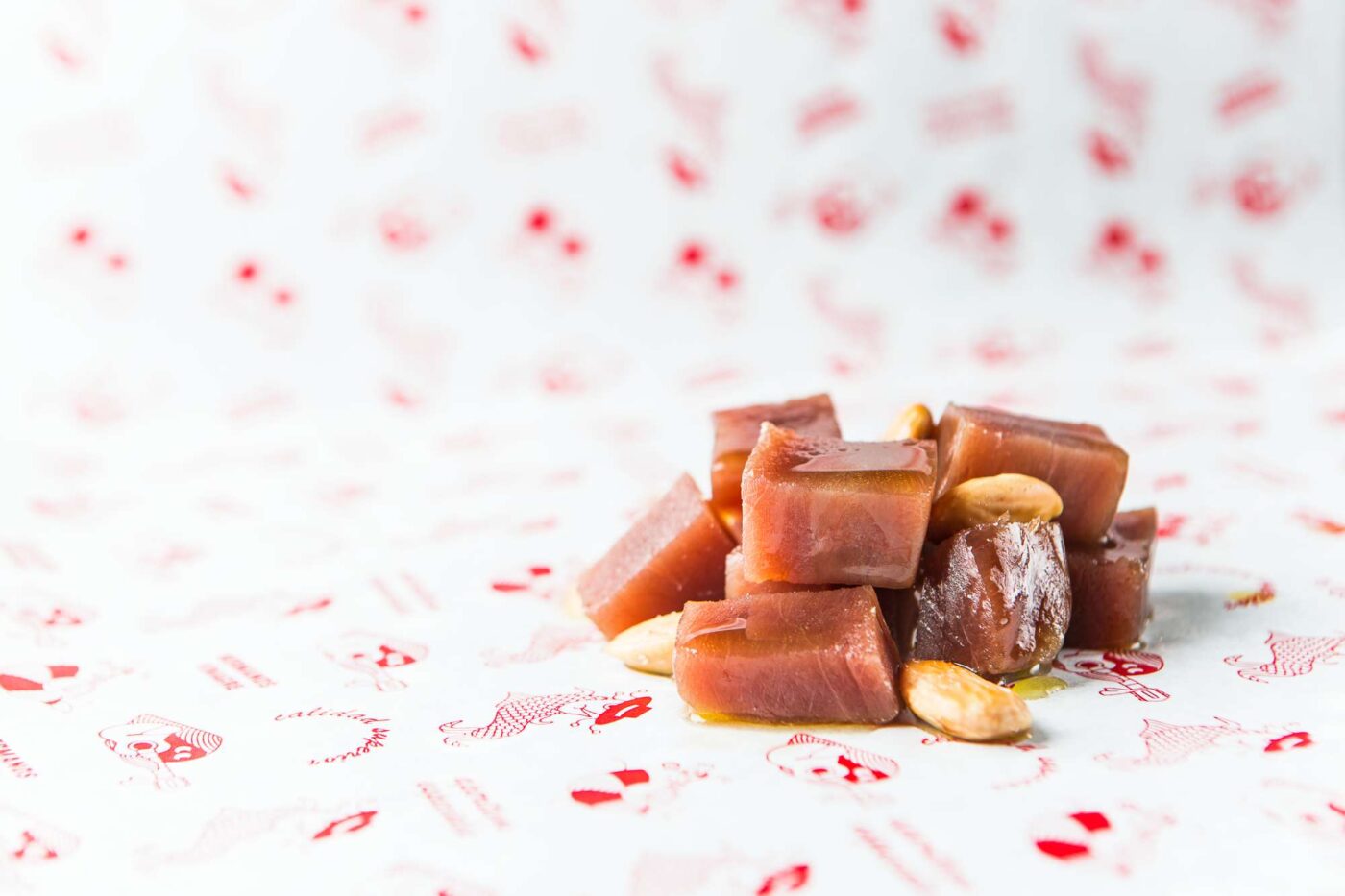 Fuentes bluefin tuna for the "most expensive Gilda in the world".
"How do we handle Fuentes bluefin tuna? We salt it for just 20-30 days, and then dry it. We shorten the salting and curing times to give it a really tender texture. I'm a real fan of mojama cured tuna, but not everyone might like it, because of its intensity. Here we emphasise the produce rather than the salt, as it is high-quality tuna and is priced accordingly. For the mullet roe we also change the timings to achieve that creaminess and more of a fish flavour. I would use the tuna for a ceviche. We already have a few experimental tins of tuna belly in ceviche which we think works really well. It could develop really successfully, somewhat similar to tuna belly cooked at low temperature," explains Carlos Valentí.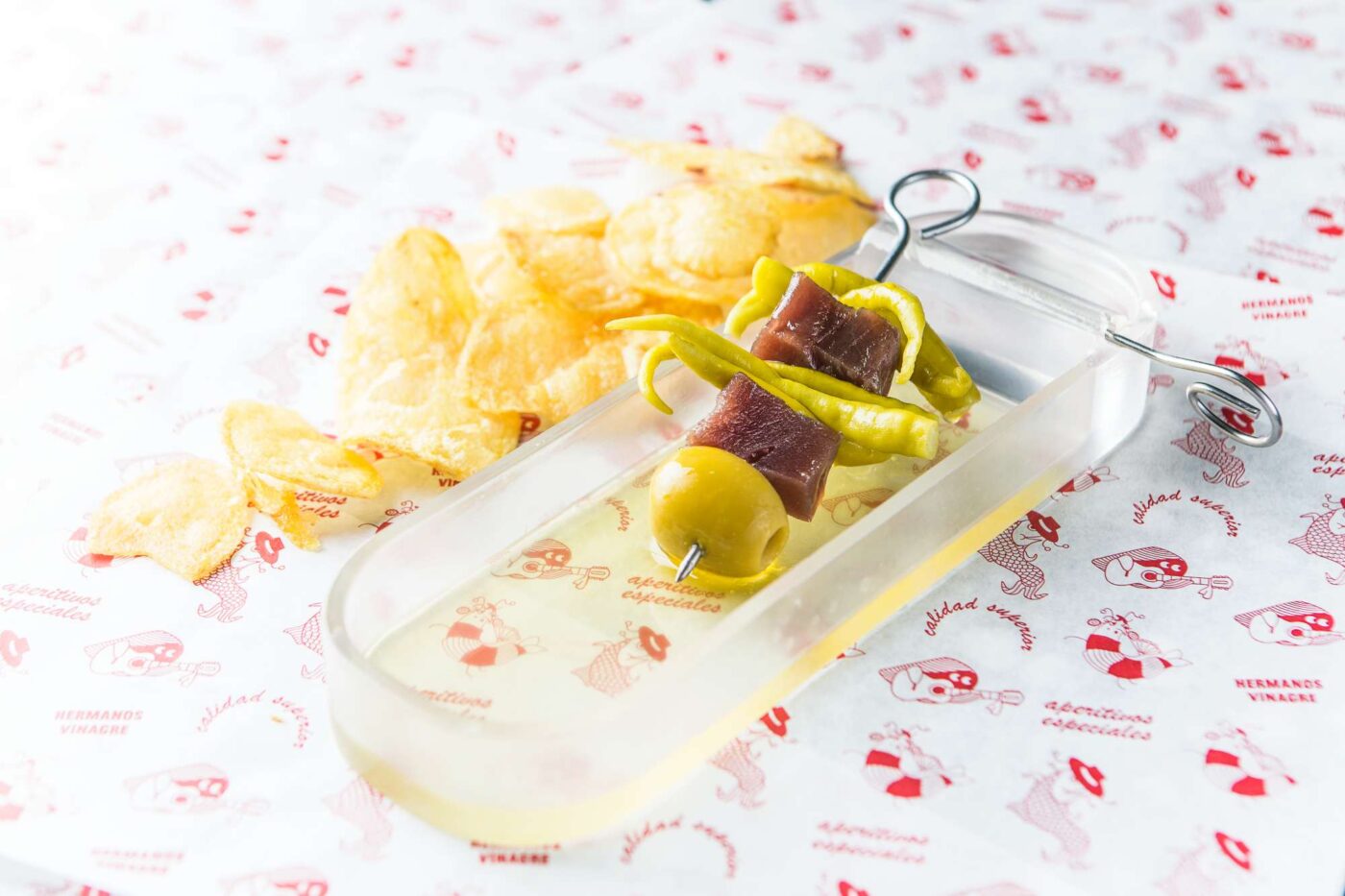 We try out "the most expensive Gilda in the world", according to the vintage plastic-coated menu at Hermanos Vinagre: a version of the classic bar snack, here comprising a skewer of bluefin tuna, pickled piparra chilli pepper and olive. The preliminary to lunch could not be any more enjoyable. The sounds of Hombres G are quite emphatic over the music system, which plays a constant stream of Spanish pop hits. "Visit our bar!"