Fuentes bluefin tuna tapas: talent to scale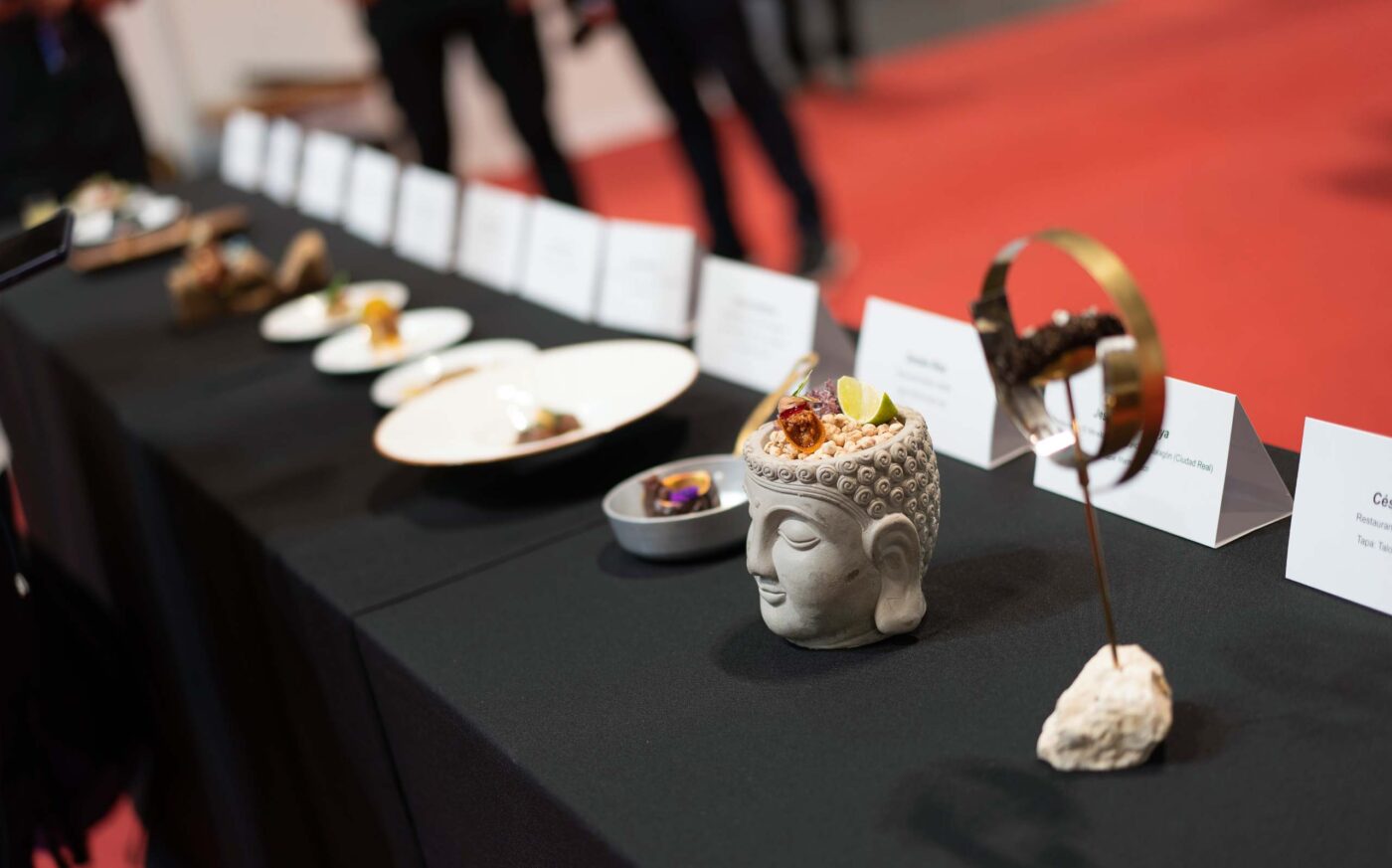 A logbook by Sensei Hiroshi Umi.
Internationally speaking, they are the most recognisable trait of Spanish cuisine. As universal as sushi or pizza. Supposedly they had a twofold origin: a matter of hygiene, and what might be called whetting one's appetite. The concept was invented or devised by some sharp-witted innkeeper, to cover the mouth of a wine glass and keep out any of the unwanted insects fluttering around shady taverns and eateries.
And so the tapa was born, perhaps at the time of the Golden Age, or maybe in the late 19th century according to other students of gastronomy. Over the decades, with the unstoppable progress of Spanish cuisine, they were gradually refined, sophisticated, brought into the avant-garde and embellished by the sacred custom of the aperitif, or any mouth-watering preamble to a lunch or dinner.
In the case of our beloved and well-considered bluefin tuna, it took some time to join the tapas scene, but it has made a dramatically succulent, imaginative and sublime entrance. Long gone are the days when it was confined to dainty dishes from Cadiz in the south, those ijadas, mojamas, marvellous ramekins of tuna with onion, or even sliced cold, as a miniature helping. What we see now are bejewelled creations, condensing know-how, the sea, technique and applause into the smallest morsel.
Now that we have reached this high point in Spanish cooking, now that chefs have greater anatomical understanding of the tuna, seeking out a culinary purpose in every inch of the magnificent physique of our titan of the seas, bluefin tuna provides an outstanding ingredient for tapas.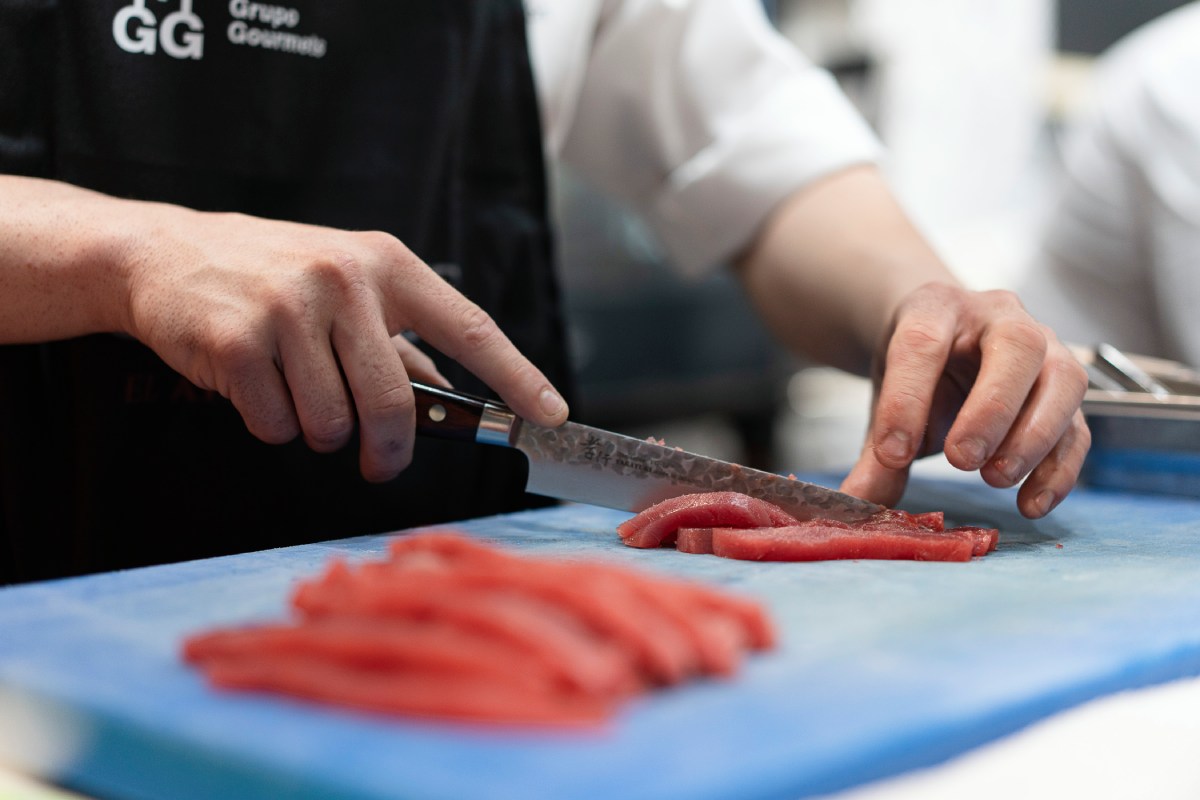 The best tapas with Fuentes bluefin tuna
As amply demonstrated in the first GourmetTapa by Fuentes contest, held during the Salón Gourmets 2023 trade fair, 12 competitors set about crafting 12 gems. But how does one fashion a tapa from bluefin tuna? What form does the creative process take, how does the idea flow and then crystallise into a mouthful of food? How much trial and error, how much testing is required? What complications or virtues does the bluefin tuna present?
"In my case, as I love making tapas, sometimes you get it right first time. You do something instinctively, and voilà, you come up with a lovely little tapa. In my case, for the Fuentes Bluefin contest at Salón Gourmets, we started off with a casserole, and then a version of cochinita pibil, which was nice, but didn't entirely convince us. In the end I went for akami, with just the right amount of fat, not the belly if you're putting fat in elsewhere, as with the guacamole in this case, wrapped in filo pastry and a secret sauce. Sometimes I've found it really hard, I had to do things over a billion times. This time I was quite sure about the cut. I added a secret sauce –soy, ponzu and some other things – and the filo pastry to wrap the ingredients up, a few dabs of kimchi and tuna butter with togarashi seaweed. You don't lose the flavour of the tuna, and you give it a few touches that remind you of Japan," explains José Antonio Guerrero, whose magnificent Japo-Taco, made him the winner of the contest.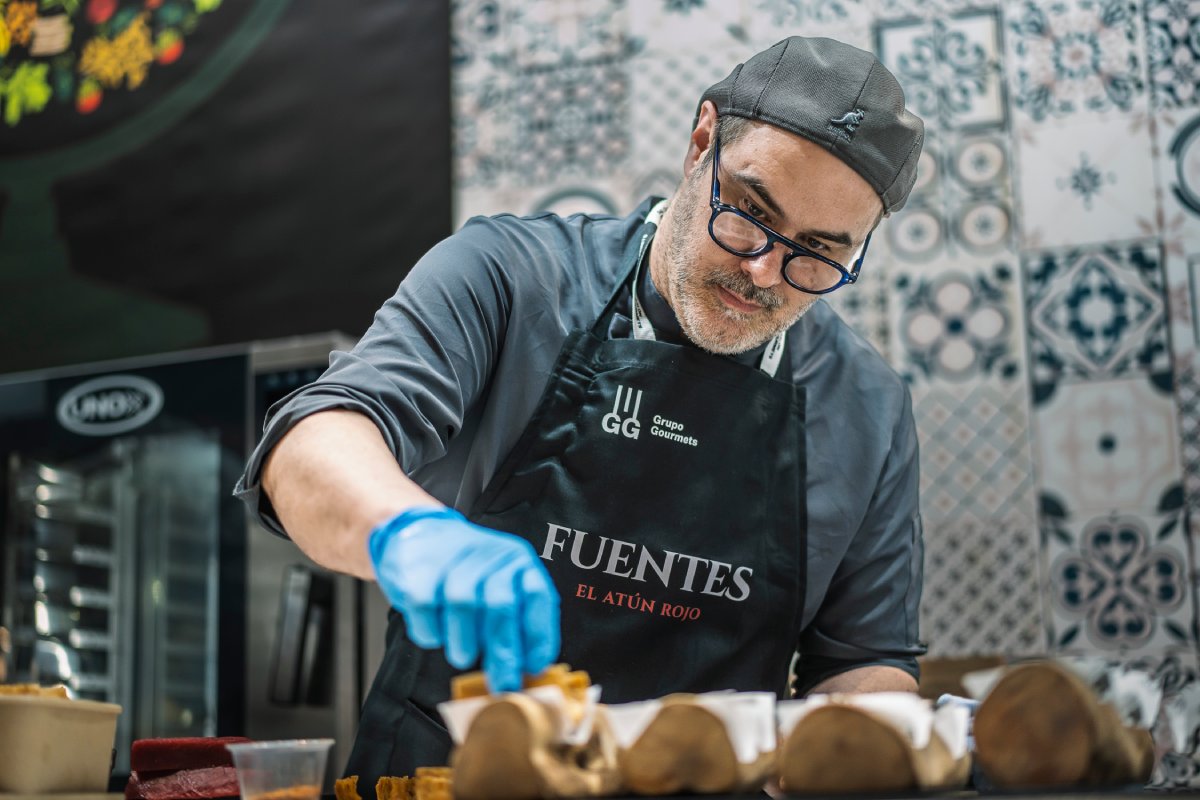 Tips for those daring to try out such challenges? "Enthusiasm and plenty of hard work. You have to do plenty of test runs and have the imagination and technique before entering a contest. And in the case of tuna, take care with cuts that might need very little cooking, or just the slightest adornment. The idea is always to embellish the produce and bring it into harmony with the rest of the ingredients," adds the chef, who plies his trade at the Aquarium restaurant in Menorca, and whom we will be paying a proper visit to shortly.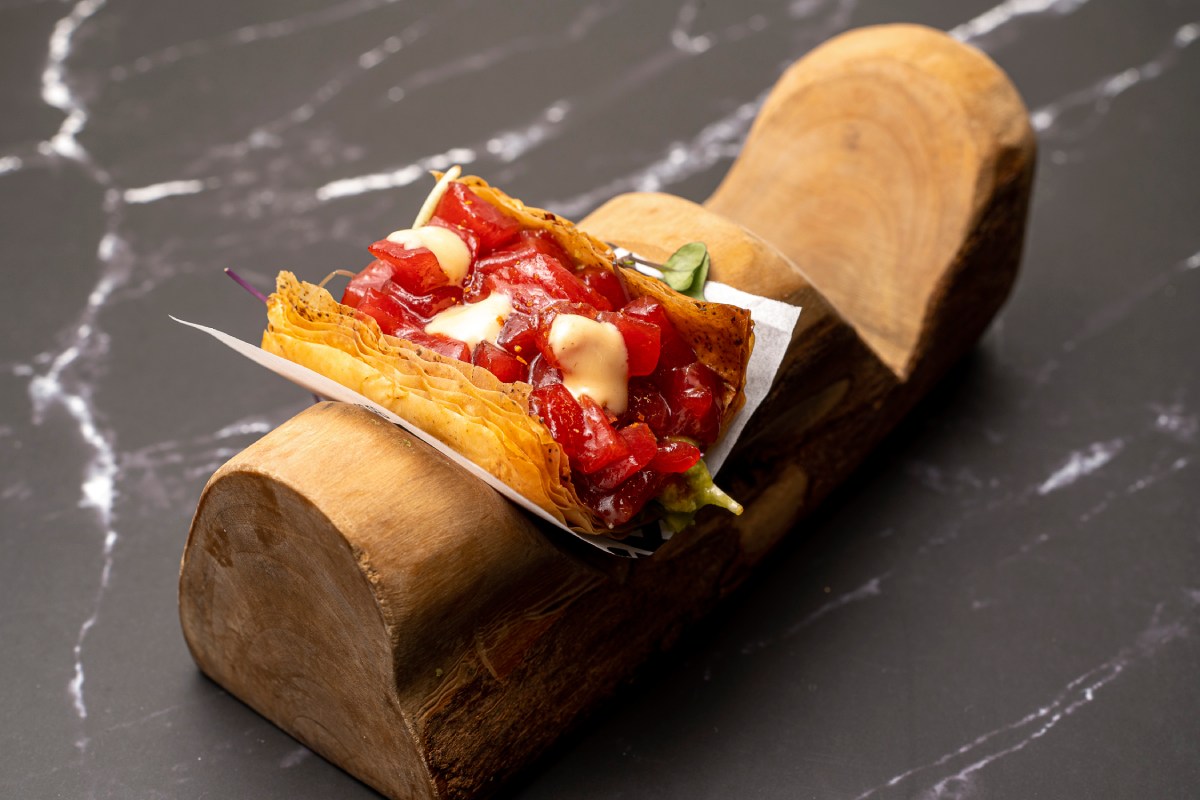 Silver medal and second place on the podium went to a dazzling bluefin tuna sandwich created by Ángel González Riera (Hacienda La Llarea Golf Restaurant, Gijón), with outstanding fattiness on the palate, in communion with truffled cauliflower, yuzu and wakame.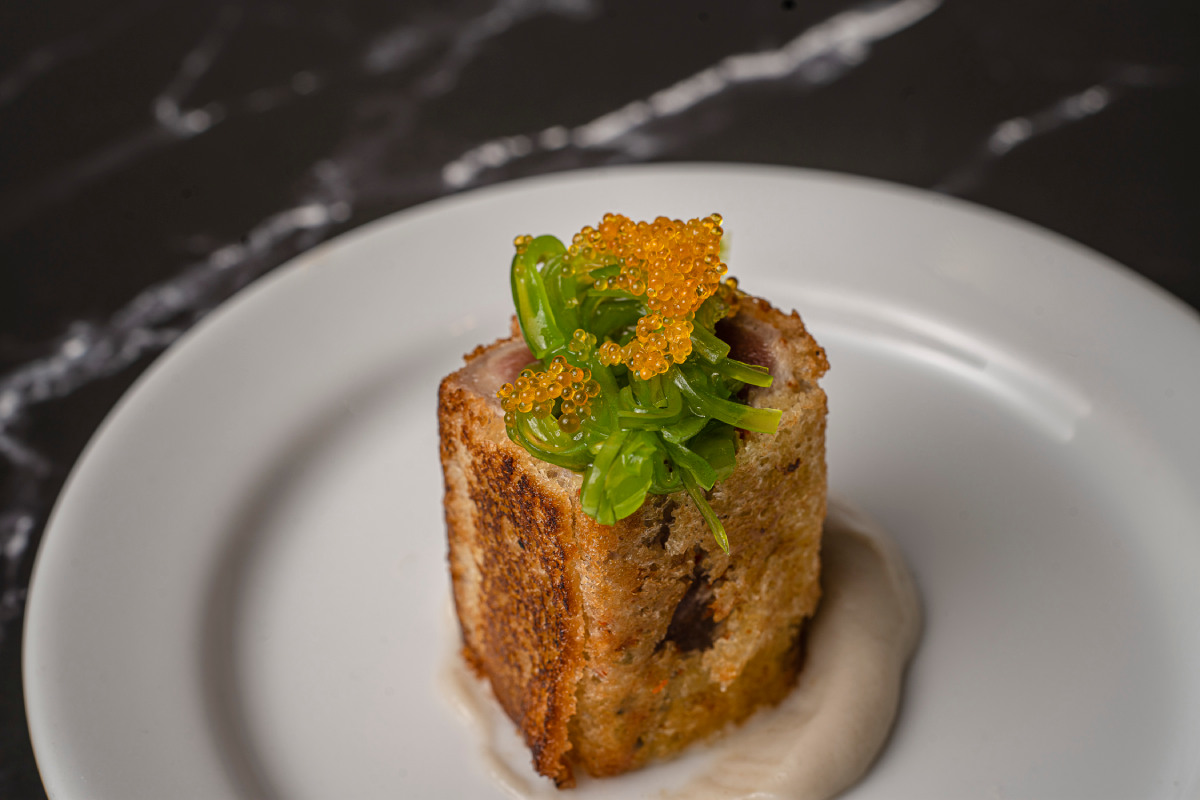 And bronze was claimed by César Mogollón with his Bluefin Tuna and T-bone Talo. His creation was presented atop almost a work of art in itself, a stone and steel pedestal. A snack-tapa that attracted great praise, well-executed and with depth, a smoky touch and haute cuisine appearance, demonstrating that tuna can be on the same wavelength as the very finest beef. "I wanted to try with both ingredients, be a bit daring. Tuna is wonderful, and so is T-bone steak, so that was a challenge which took me a few weeks until it turned out just right. It wasn't easy," reflects the young chef.
Bluefin tuna, the ideal ingredient for tapas
At my gastro destinations I have come across tapas made from such cuts as back cheek, cheek, noten, harmonica, ossobuco… For the GourmeTapa by Fuentes there were those who ventured to use manioc as the container for a tuna filling, who experimented with a truffled marinade for belly and loin, a somewhat varied fried rice nigiri (and what are nigiris, if not tapas, revealing the historical links between Spain and Japan?) cheek and quince charlotte which was a dish in itself… One can often forget the inherent nature of tapas: fun, quick to prepare and eat, commercially viable, functional. But this, far from being a barrier or handicap, spurs chefs on.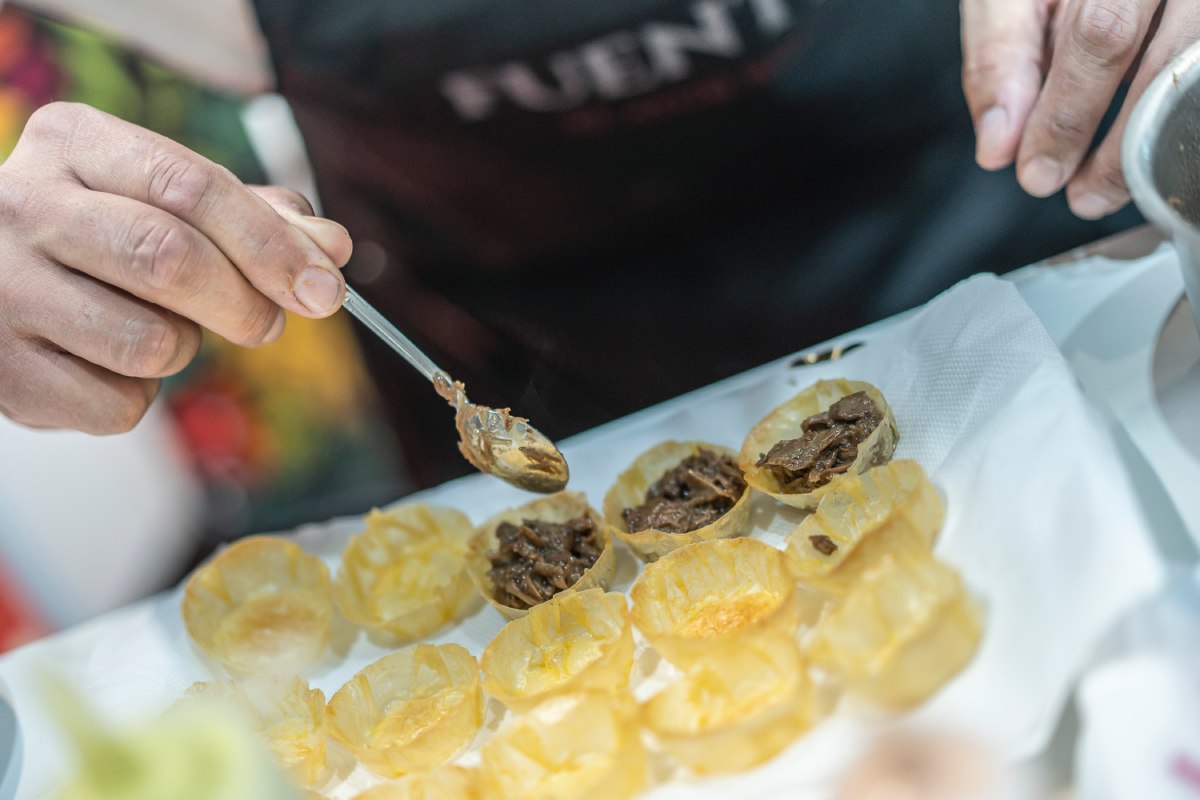 Even the great Diego Guerrero –DSTaGE, two Michelin stars– has prepared a miniature dish with tuna eye, full of flavour and finesse, not to mention those little fillets, almost slices of heart that one may be served in the south of Sardinia, in Sant'Antioco.
Tuna offal also has its own esteemed status. "Bluefin tuna strikes me as the ideal ingredient for tapas. As we found out at the National Contest for many years, because there are always dishes using tuna. It used to be a fish that was served seasonally, but now that it is available from fish farms and fattening pools, chefs have access to perfectly fresh tuna. It is an ingredient that you still often see in tapas, and chefs make use of it. Even preserved I think it's perfect!" reflects Luis Cepeda, perhaps one of the most authoritative opinions when it comes to tapas in Spain. We couldn't agree more, Señor Cepeda. How many hundreds of thousands, millions of tapas of the most diverse cuts, both the highly prized and the less coveted, could you get out of a 300-kilo tuna? You do the math…