El Doncel: bluefin tuna 1,000 m above sea level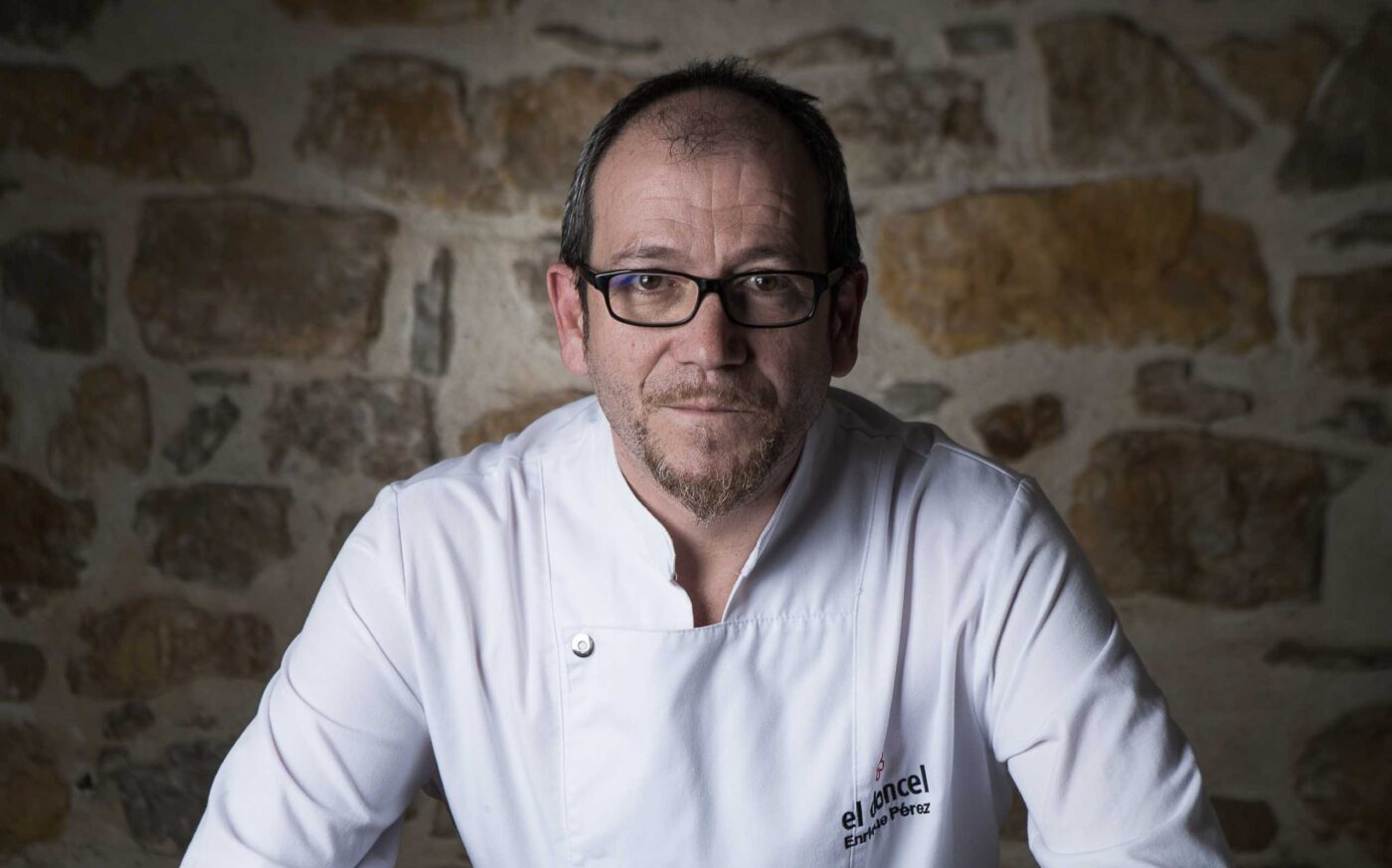 A logbook by Sensei Hiroshi Umi.
He gives off the aura of days gone by, out of the ordinary, like a man of the Golden Age, veteran of a thousand battles, arising from a literary world. A rakishly piratical beard, professorial glasses, sharp and precise words, courtesy and refined manners in a setting of monumental stone… On this culinary odyssey in pursuit of tuna, we cast anchor in Sigüenza, Guadalajara, where the Knight of the Sad Countenance, alias Don Quijote, rode alongside Sancho Panza in search of adventure and misadventure, which is why the Trail which traces his feats passes through here. The wonderful chef Enrique Pérez may not be Alonso Quijano, but his sensible madness has won fame and literature with his local, game-based cuisine, strictly seasonal and highly demanding in terms of produce. As well as his paradoxical version of delicious tuna "1,000 metres above sea level", as he likes to say.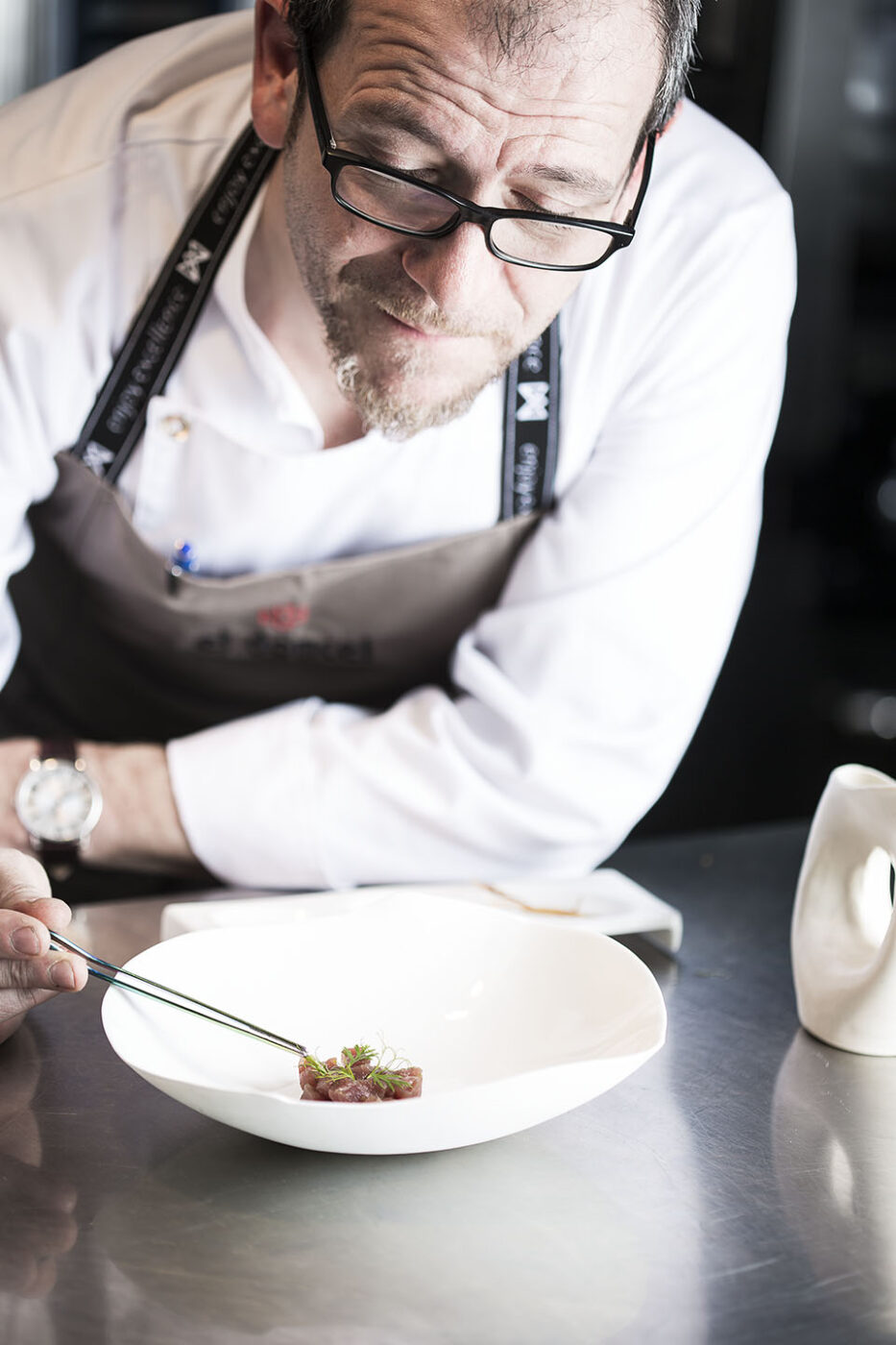 All of which follows on from a narrative element shrouded in the mists of legend: his restaurant (Michelin Star since 2017, two Repsol Suns) goes by the name of El Doncel. The courtly gentleman in question is known to Spanish history as Martín Vázquez de Arce, who apparently gave his all alongside the Catholic Monarchs in pursuit of the Reconquest of the Kingdom of Granada. He never got to see the Nasrid city fall in the year that Columbus discovered America, though, having lost his life in some nameless ambush or act of treachery. Today a remarkable Gothic sepulchre at the heart of Sigüenza Cathedral stands in tribute to him.
Fourth generation of restaurateurs
After a morning's cultural baptism, many visitors and gourmets head off on a subsequent culinary pilgrimage to the establishment of the same name, where Enrique Pérez orchestrates a formidable set menu, which extends into a variety of à la carte options, likewise presented as a coherent discourse. "I was born in Madrid, but I grew up in Sigüenza. We lived in Concha Espina and I would walk to work at Zalacaín, alongside the great Benjamín Urdiain. My brother Eduardo (maître d' and a close friend of the great Sabina) and I are now the fourth generation of restaurateurs in our dynasty. We would work here at weekends, and in the end we transformed what was our parents' business in 2010, heading back to our roots to set up a culinary enterprise. It's such a shame that our father missed out on so much," Enrique laments, taking pride in the 14 hotel rooms above the restaurant.
With the influence of Cervantes' masterpiece a central theme, I recall that in my homeland, Don Quijote is the name of a well-known chain of department stores… No less a tale than the treatment and reverence the chef shows to his bluefin tuna, with a range of recipes in so landlocked a setting here in La Mancha, of which the Japanese are so enamoured. "This is the land of escabeche. We grew up amid that culture of curing in vinegar, it's the whole philosophy here, because it was a wonderful way of preserving food, just like in fat, jars of oil, salt. If quail or partridge were caught in July, we would want to eat them in December, and that meant pickling. And they had to be in perfect condition in the winter, without the need for industrial refrigeration".
Bluefin tuna, the star of the show
"I really like serving bluefin tuna loin in carrot escabeche, but tailored to today's tastes, without the rock 'n' roll vinegar, but a more lovingly delicate dressing," explains the chef, who learned his trade at the Hospitality and Tourism School of Teruel, and under the orders of Koldo Rodero. Enrique sears the loin tataki-style, with loving care and subtlety. He caramelises the edges. And slices it once it has cooled. It is served with "dryland caviar", pickled mustard, citrus fruit, fresh tomato heart, romanesco broccoli, with colourful, sweet, generous jus of carrot. Topped with oil from centuries-old Verdeja olive trees and a mild, perfumed vinegar, with a hint of countryside herbs, having been vacuum-infused at 60°. Sublime.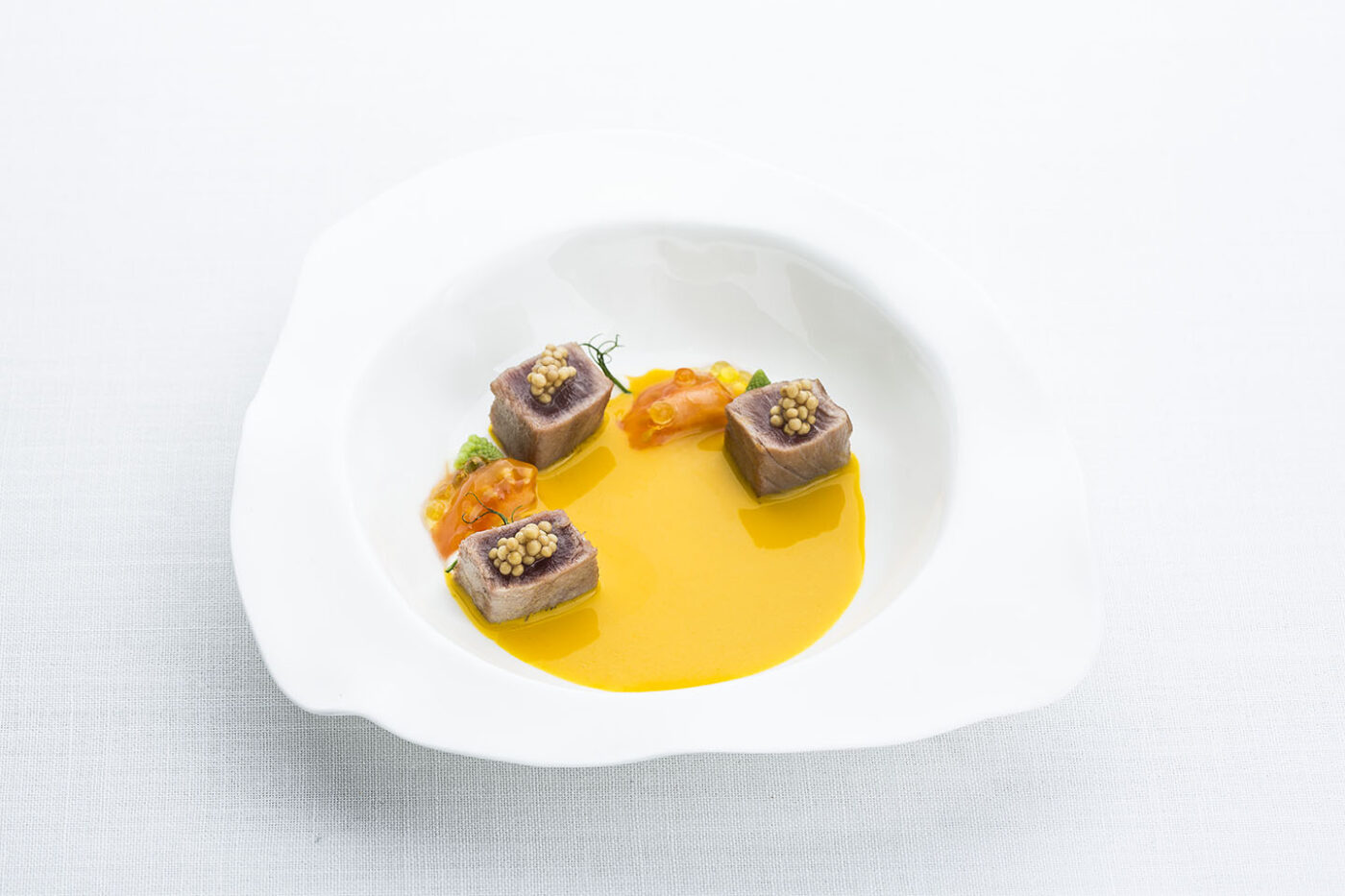 Followed straight up by a tartare, highly delicate, chopped to order, so as not to bleed or oxidise. "We dress it with really light liquids: to begin with, first pressing oil for that cohesion and velvety feel; and then a Mediterranean touch, with sherry, a little soy, for that salty element and to change the colour, to bring a touch of Asia to the dish," he explains. Not a hint of salt. Tuna, the absolute star. A few drops of ajoblanco lend a little freshness as the ideal combination, without the almond stealing the limelight from our Titan of the Seas.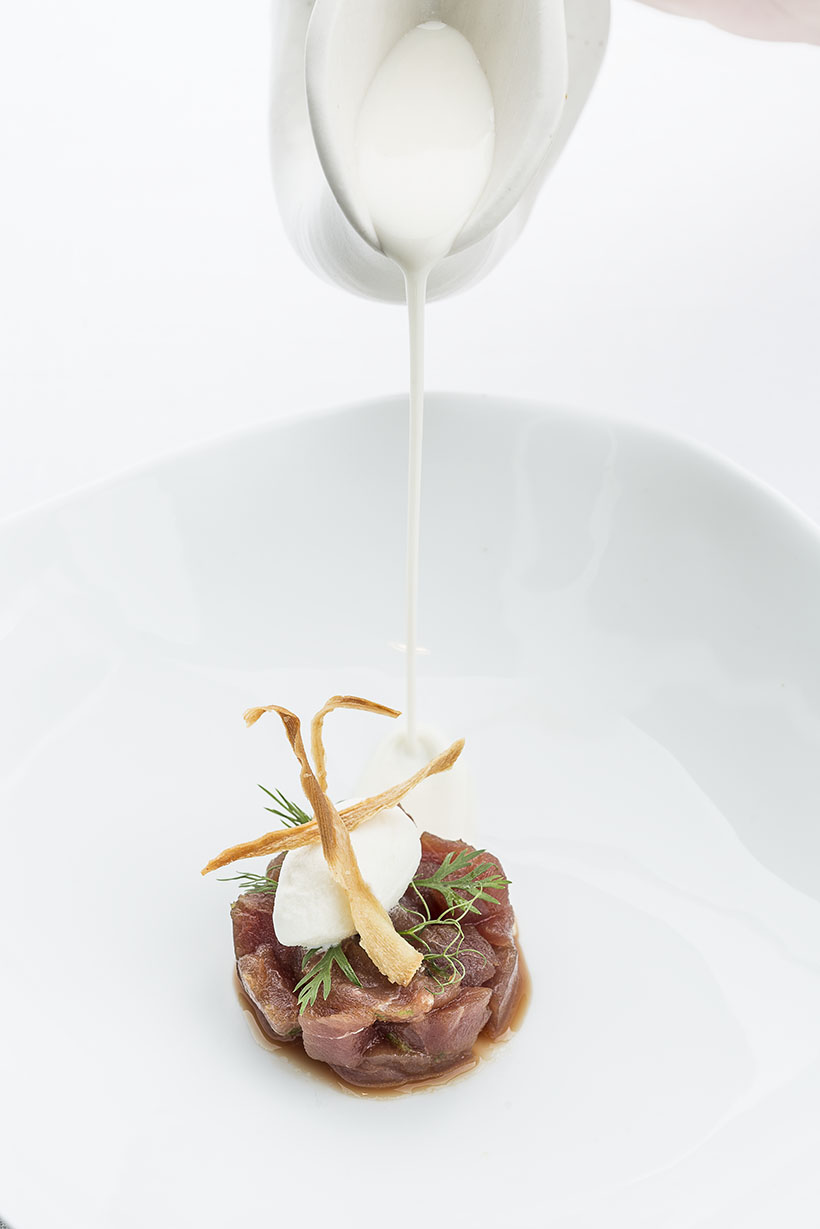 For the perfect triumvirate, blending this inland region with some coastal brine, Pérez presents a dashi broth of local mushrooms (portobello) and seaweed, topped instead of katsuboshi with grated truffle "more than sliced, so that it brings in the sense of smell, which is fun, triggering an unusual combination of flavours, incorporating tuna within an inland culture where we eat mushrooms and truffle".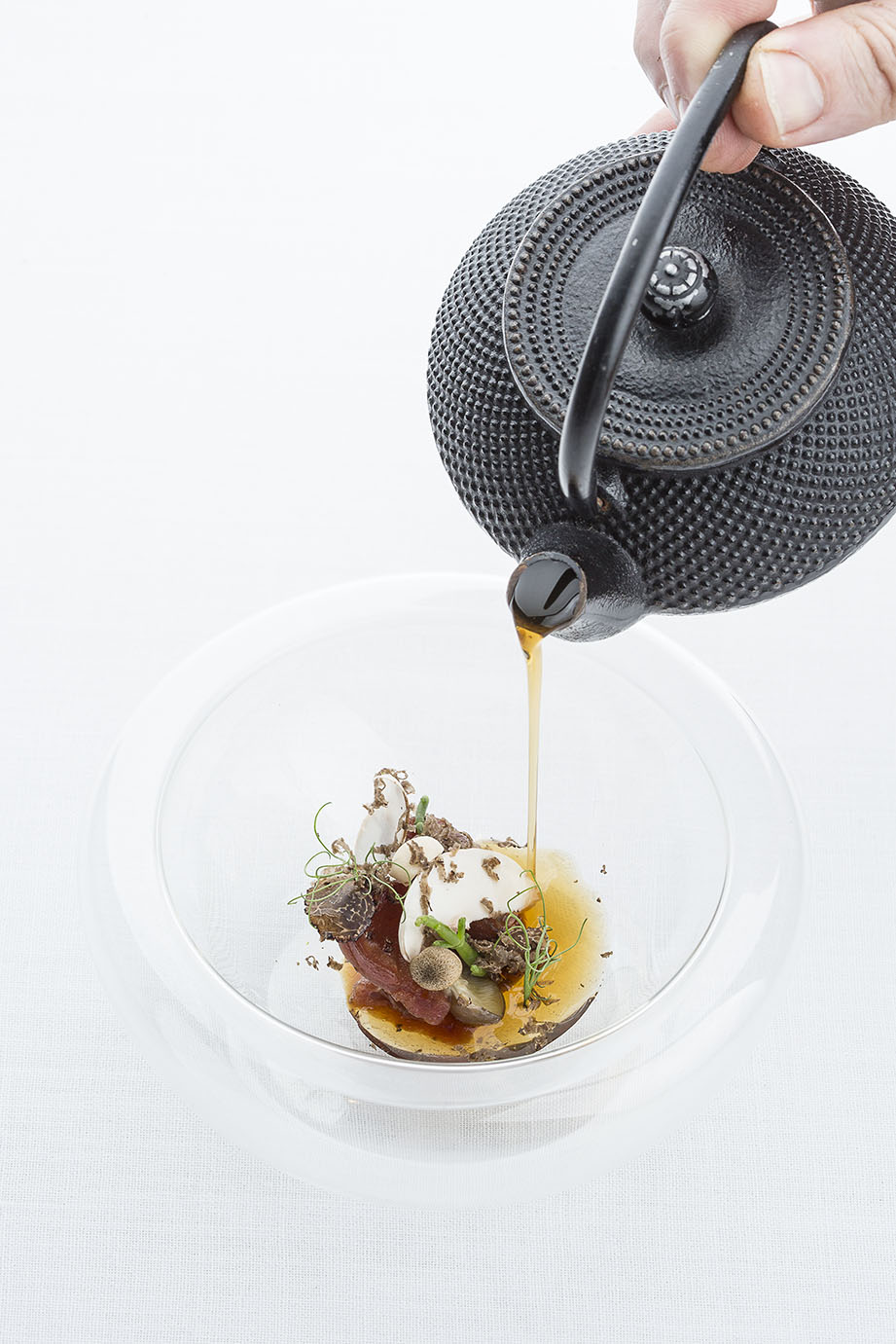 The chef admits that he would make a better job of shearing sheep than butchering a tuna, expressing huge respect for the "Samurai blades that they use on these 300-kilo fish. We get ours sent from Fuentes Bluefin Tuna, ready prepared and sliced". And when the time comes, El Doncel also serves up belly, cheek and back cheek, "in casseroles which we bring to our region, with robust wines and with spices and herbs", the chef concludes. So now you know: Sigüenza is well worth a careful stop. Because of Quijote, the legends, El Doncel in his cathedral, the coaching inn. And the atascaburras, wild boar, venison, roebuck, trout and pigeon. Even tuna like windmill giants…