Tuna ramen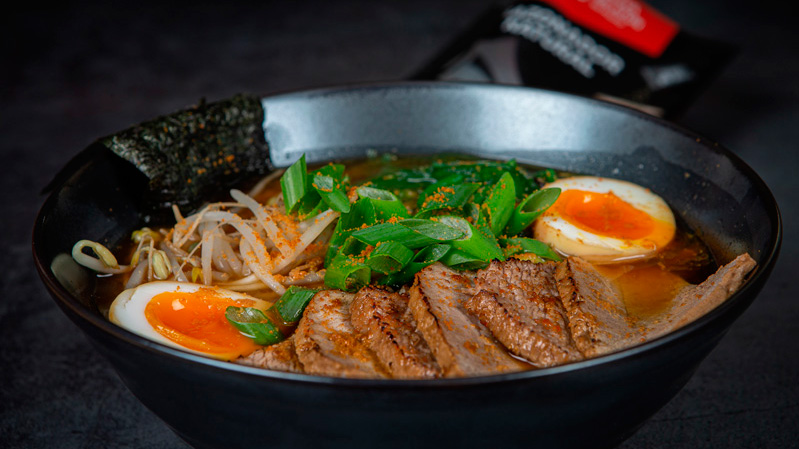 The harakami is one of the most prized cuts of the bluefin tuna, and a winning combination. One single segment of the fish which combines two of the most revered parts of the tuna, laden with contrast: contrasting colours between the intense red of the lower belly and the paler pink of the belly, and contrasting flavours thanks to the different levels of inherent fattiness.
Harakami unquestionably offers countless culinary possibilities. Today we suggest a traditional Japanese dish that is very much in fashion right now: tuna ramen.
METHOD FOR THE JUS
Make a stock with the tuna backbone, fins, ginger and garlic. Simmer for two hours, strain and reduce by half.
METHOD FOR THE HARAKAMI
Simmer the soy, sake, mirim, ginger and crushed garlic for 15 minutes. Add the harakami and simmer for 6 minutes. Allow to cool in the stock. Once it has cooled, thinly slice the tuna. Set aside the stock.
METHOD FOR THE EGG
Boil the egg for 6 and a half minutes, and cool. Macerate in the harakami cooking stock for 12 hours.
METHOD FOR THE MISO PASTE
Make a paste with the red miso, white miso, garlic, sake, soy and mirim. Set aside.
SERVING:
Place a spoonful of the miso paste in a bowl, with the piping hot tuna stock, the cooked noodles, blanched soy shoots, slices of harakami, spring onion stalks and wakame seaweed. Add the tuna powder as a finishing touch.