Cured tuna head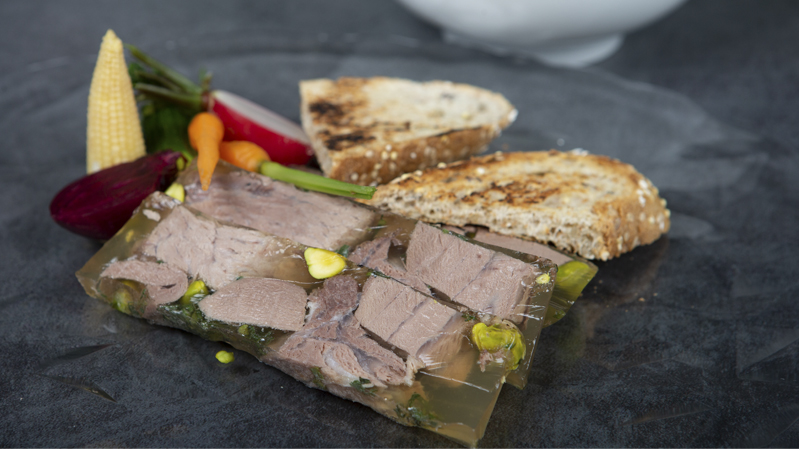 Every part of the bluefin tuna is used. Even less popular cuts such as the fin, eye, cheek, tongue and the head meat have their uses in the hands of the most creative chefs. Today we try them out in this delicious recipe: "Cured tuna head".
METHOD:
Make a brine with the herbs and 2% salt per litre of water, and soak all the cuts of tuna in it for 12 hours. Rinse, and boil in the tuna stock.
As the meat boils, remove the cuts and leave them to chill.
Strain the broth to remove impurities.
Cut the meat and place it in a mould, with alternating layers of pistachio. Cover with the cooking broth and leave to cool for at least 24 hours, to ensure it is properly chilled and the natural gelatin of the fish firms up. For firmer jelly, you could add a couple of sheets of
gelatine.
METHOD FOR THE STOCK:
Rinse the backbones well and make a stock with the bay leaf, onion and juniper. Boil for 30 minutes, and strain.
METHOD FOR THE PICKLED VEGETABLES:
Make a brine with 1.5% salt per litre of water, and soak the baby vegetables for 4-7 days, depending on the desired intensity.
PRESENTATION:
Slice and serve with the pickled vegetables and toasted seed bread.