Braised tuna cheek with pea and mint mash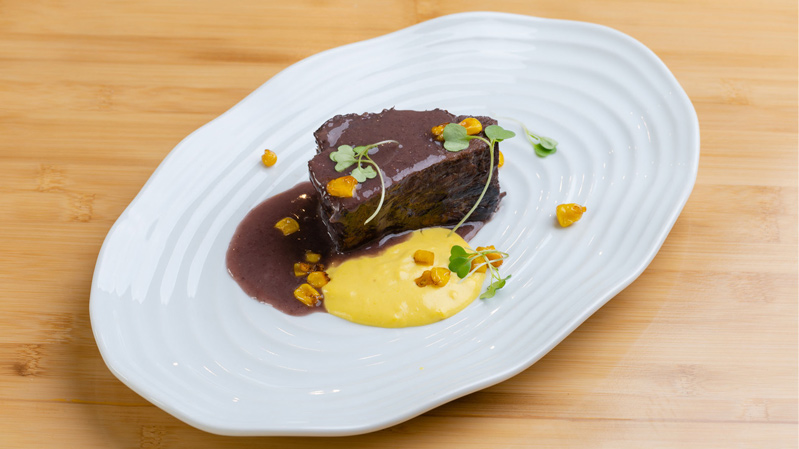 Method
Tuna cheek is the star of this recipe. This is a really special cut of tuna thanks to its distinctive texture and flavour, making it the perfect ingredient for tuna casseroles.
Begin by seasoning the tuna with salt and pepper. Get a casserole nicely hot, and sear the cheeks over a high heat just to seal them, then set aside. Add the vegetables and herbs, and sauté over a high heat to brown the vegetables.
Add the red wine and simmer over a moderate heat for around 10 minutes until well reduced. Add the water and simmer until reduced to half.
Add the tuna cheek and simmer with the lid on for 10-12 minutes on a low heat. Remove the cheeks and leave them to cool so they can be sliced. Strain and set aside the sauce.
Mash
To prepare the mash, boil the peas in salted water. Once they are cooked, strain and reserve the cooking water. Blend the peas with the butter, the mint, and add a little of the cooking water if necessary. Strain and set aside.
Presentation
Place the piece of cheek and some of the sauce in a frying pan and set to simmer. While it is heating up and the sauce is reducing, glaze the cheek using a spoon.
Place the pea mash on a plate, with the glazed tuna cheek on top, a little of the reduced sauce, and finish with a few pea shoots or flowers.
And then enjoy!