Sangacho, foei and chocolate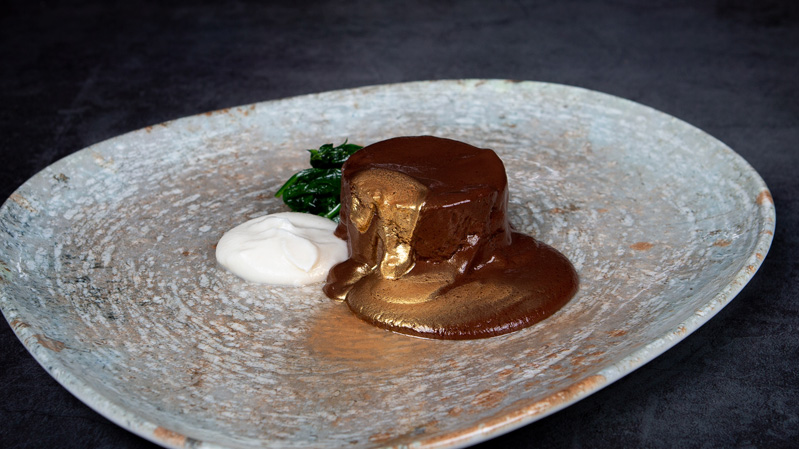 Sangacho, the darkest meat of the tuna, comes from a band running alongside the spine. It has a soft texture and powerful flavour, and is mainly used in stews and sauces. Today we find it in a delicious and original recipe: "Sangacho, foie and chocolate".
METHOD FOR THE JUS
Begin by preparing the broth. To do so, brown the bluefin tuna backbone with the onion, carrot, garlic and leek. Add the red wine, reduce, and add water. Simmer for two hours, strain, and reduce by half. Before serving, thicken with the dark chocolate.
METHOD FOR THE STUFFED TUNA
Roll the raw tuna around the ham and foie, together with the brandy and lastly add the egg whites and cream.
Place in rings and cook under vacuum at 85 degrees for 20 minutes in water.
METHOD FOR THE PURÉE
Boil the celery and add the cream, with salt and pepper. Simmer for a few minutes, and blend with the butter to a fine purée.
PRESENTATION
Place the sangacho rolls on the plate, served with the purée alongside, and toss in the piping hot sauce. Finish with a sheet of gold leaf.