Charcoal-grilled tuna back cheek with pig's trotters and piparra pepper mayonnaise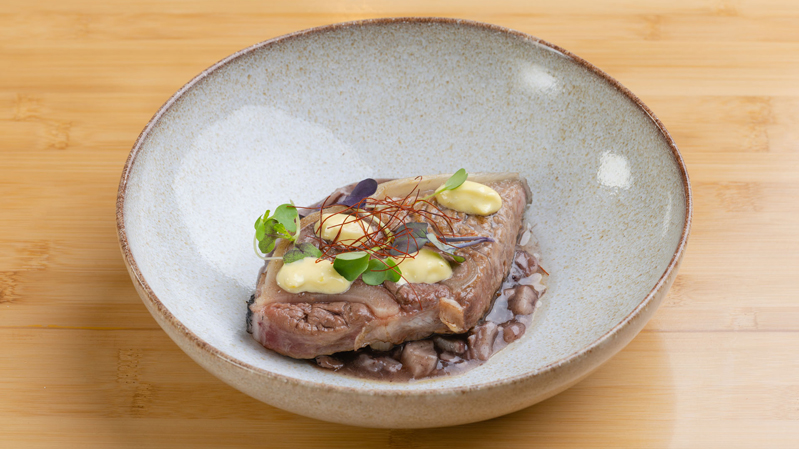 Method
Contrasting flavours and a succulent recipe which combines pig's trotters with one of the juiciest cuts of bluefin tuna: the back cheek.
To prepare the recipe, first soak the pig's trotters for 12 hours in brine, using one litre of water and salt. It is very important for the salt to dissolve completely.
Soften the garlic, vegetables and herbs in a deep frying pan with a little oil over a moderate heat. When they are nicely softened, add the trotters and the red wine. Reduce the wine for 15 minutes, then cover with water and stock. Cook on a low heat for 2 hours until they are nice and tender. Bone while still hot, and dice.
Strain the sauce, reduce to half and set aside.
Blend the mayonnaise with the piparra peppers and set aside.
Presentation
Simmer the trotters together with the sauce so that it reduces and combines with the gelatine. Sear the back cheek over charcoal, bone and place on the trotters. Dot the tuna with the mayonnaise and crackling.
Garnish with a sprig of fresh herbs.