Ossobuco "a la italiana"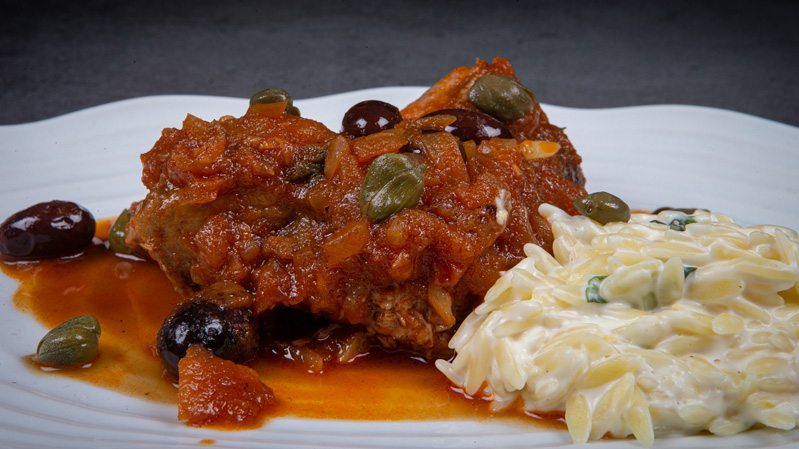 Made up of the loins found next to the spine of the tuna and the bone itself, ossobuco always creates an impression. This is a particularly distinctive cut given its high level of collagen, giving it greater silkiness. It is suitable for all types of preparation, grilled, roast, stewed, although casseroled with a fortified wine it produces a truly memorable dish. Today we try it "a la italiana".
METHOD:
Brown the floured ossobuco in a deep frying pan and set aside.
In the same pan, soften the garlic and onion in a little oil. When the onion is translucent, add the peeled and seeded fresh tomato cut into large chunks, and cook until it forms a paste.
Add the tomato purée, cook for 5 minutes and add the ossobuco and Marsala wine, then reduce. Cover and cook on a very low heat until the tuna is tender (around 15 min). Add the black olives, cook for 2 min, and leave to rest off the heat for 10 min. Garnish with the fried capers to serve.
METHOD FOR THE RISSONE
Boil the pasta for 5 min.
Place the pasta, cream, salt and pepper in a deep frying pan. Cook for 2 min and add the mascarpone, the parmesan and lemon zest, and cook over a moderate heat until the texture is creamy. Add a few basil leaves before serving.
PRESENTATION:
Present the ossobuco in one pan and the rissone in another.
On the plate: Spoon the tomato sauce onto the plate, with a piece of tuna on top, and garnish with fried capers. Serve the creamy rissone as a side dish.