Tuna tail loin stew with garlic confit emulsion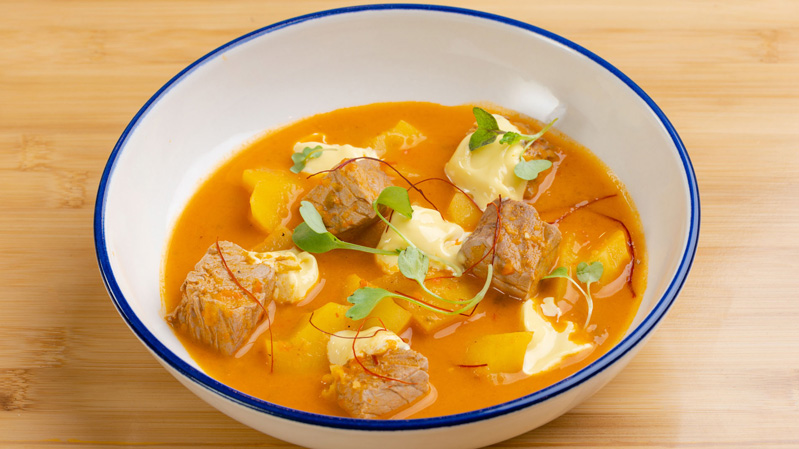 Preparation:
The end part of the loin is a highly versatile cut which offers countless culinary options. It is perfect grilled as the "entrecôte of the sea", but is also highly recommended for such other methods as barbecuing, stewing or casseroling. Today we try out a stew with a special garlic confit emulsion.
Emulsion:
Begin by preparing the emulsion. Cook 8 peeled cloves of garlic in a quarter of a litre of oil in a pan over a low heat for 10-15 minutes. Leave the oil to cool until tepid. Blend the garlic cloves with the eggs and a pinch of salt. Once you have a smooth paste, add the oil and blend to a light emulsion. Set aside.
Stew:
Gently fry the garlic, oil and peppers in a casserole. Add the cayenne pepper, the fried bread and paprika, without letting it burn, and then the tomato sauce and purée. Heat through for a minute, and add the white wine. Reduce well, until the alcohol has evaporated. Add the stock and simmer gently for 15 minutes. Blend and strain.
Peel and chop the potatoes, and add to the simmering stock. Boil for 20 minutes until nice and tender.
Once the potatoes are ready, take off the heat, add the diced tuna, and serve.
Presentation:
Place the potatoes and tuna on the plate and finish with the garlic emulsion, a few coriander leaves and the chilli pistils.