Chin meat in puff pastry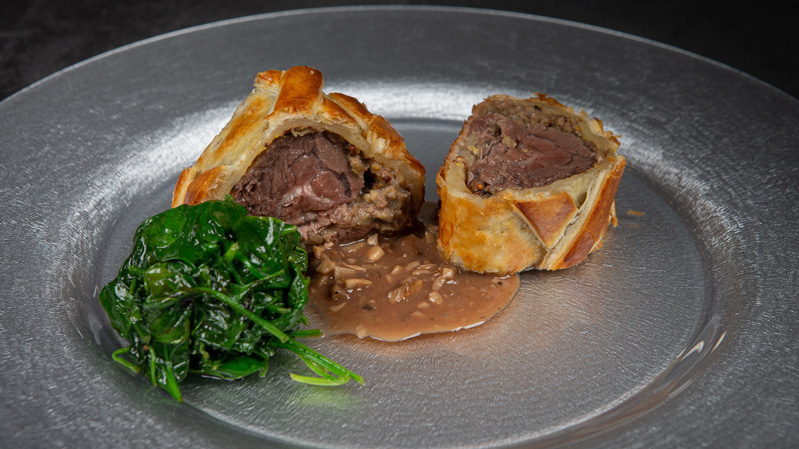 Positioned between the head and belly of the tuna, the 'galete', or 'Chin meat', comprises a gelatinous bone and a great deal of extremely tasty and succulent meat. Think of it as similar to oxtail, ideal for all types of stew. Today we try it in puff pastry, together with sautéed spinach. 
PREPARING THE JUS
Start by preparing the jus. Bake the tuna backbones in the oven at 160º C for 2 hours, with the onion, carrot, garlic, celery and leek. Deglaze with the red wine, reduce and add water. Simmer for two hours. Strain and reduce.
PREPARING THE DUXELLES
Gently fry the shallot in the butter on a very low light for 10 minutes, with salt and pepper. Next, add the mushrooms, cut in brunoise, and fry gently until all the water has evaporated. Allow to cool, and mix with the foie mousse.
METHOD
Spread the wholegrain mustard over the tuna chin meat, season with salt and pepper and sear in a frying pan on all sides over a very high heat. Chill rapidly.
Stretch out the puff pastry, and place the tuna with the stuffing on top. Seal the pastry, make a couple of holes to allow the moisture to escape, decorate, brush with egg and bake in the oven at 220° C for 10 minutes.
Use the rest of the stuffing to make the sauce, by adding the brandy and jus.
SERVING:
Pour the sauce onto the plate, with a portion of the tuna cheek in pastry, and serve with some sautéed spinach.