Bluefin tuna crackling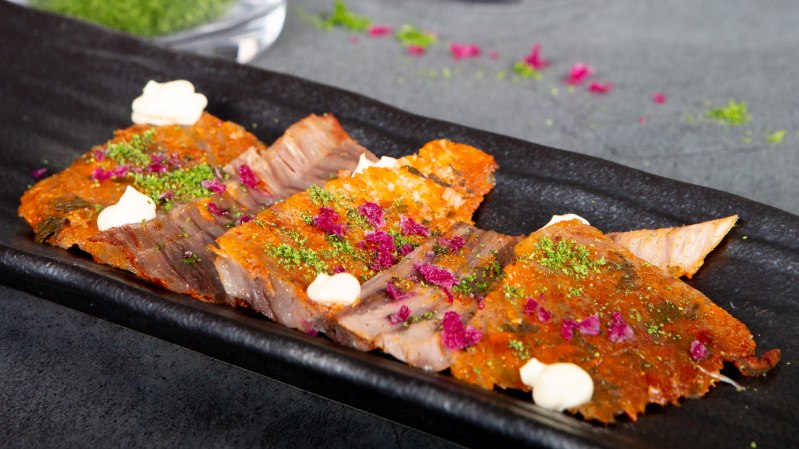 It may have the name and appearance of a musical instrument, but is a highly distinctive cut of bluefin tuna. The harmonica boasts a very silky texture and mild flavour, which surprisingly resembles beef.  It is not suitable to be eaten raw, because of the large amount of collagen and fibre it contains, but produces outstanding results when cooked in various recipes. Today we try it in the form of this original crackling.
METHOD:
Begin by mixing the spices and manteca colorada, made from lard seasoned with paprika. Salt and pepper the harmonica cuts of tuna, and spread with the lard using a glove. Vacuum pack and leave to marinate for 12 hours.
Vacuum cook the tuna in water for 40 minutes at 45 degrees. Leave to chill and rest for at least 12 hours.
Slice thinly and place on greaseproof paper.
METHOD FOR THE MAYONNAISE
Mix the mayonnaise with lemon juice and grated rind.
METHOD FOR THE KAFFIR POWDER
Blend the frozen lime leaves to a powder, on full power. Strain and set aside.
PRESENTATION:
Place the thin slices of tuna on the paper, with a few dots of mayonnaise, lime powder and sea salt.